Argüello insists: Falklands 'lives off MPA and the British Antarctic Survey'
Monday, October 17th 2011 - 04:09 UTC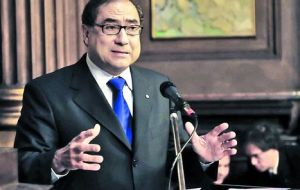 Argentine representative before United Nations Jorge Argüello insisted in a public statement that "be it not for the aid from London, the Falkland Islands could under no concept subsist without its natural continent, South America".
Argüello added that the British government "hides information in London to the Europeans in Brussels and to the rest of the world".
His statements follow on a Twitter reply from the elected government of the Falkland Islands that said: "Jorge Arguello with some poorly researched comments. Bar defence we are self sufficient. No UK payments are received. We deal in facts".
Last Thursday addressing an audience at the top Mexican University UNAM, Ambassador Argüello had stated in reference to the Falklands that "England knows that if it cuts the social assistance and employment budget of the (Falkland) Islands as it has done with other (British) citizens, it will lead to the emigration to Argentina or South America, where the opposite thing is happening".
Insisting with his original statements Argüello said that the main stats on demography, labour, employment, immigration, trade and in most issues in the Falklands/Malvinas are "unavailable".
"This confidentiality is not certainly because of any threat from South America to its inhabitants, but rather because they want to dissimulate before the English people and in Europe that the majority of working-age people in the Islands are directly or indirectly supported by London", underlined ambassador Argüello.
The Argentine representative claimed that "the only hospital in the Islands and the only international airport are financed by the Ministry of Defence in London.
He added that the majority of the Falkland Islands population "depends from the expenses and consumption of the military base and the British Antarctic Survey" the official office in London with competence over "the British interests in Antarctica".
Finally Argüello said that the British Crown is committed to make the English people believe that the Falkland Islanders do not depend economically from the metropolis as a way "to dissimulate the costs of artificially sustaining its strategic position in the South Atlantic".