Chile purchasing an 11.300 tons amphibious assault ship from the French navy
Monday, October 17th 2011 - 17:39 UTC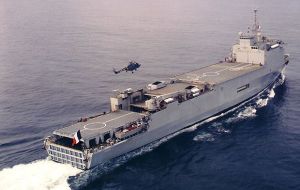 France and Chile are in the last stages of the transfer of the amphibious assault ship 'Foudre' to replace the decommissioned multipurpose 'Valdivia' that was extensively used for the transport of troops and military equipment, reported the Chilean navy.
"More than a new acquisition what we are doing is recovering the capacity we lost when 'Valdivia' after fifteen years in service was decommissioned", said Navy commander Admiral Edmundo Gonzalez-Robles.
He added that the 'Foudre' with its capabilities which "the Chilean Navy does not have, means we can transport in a single trip the whole population of Chaitén or the island of Juan Fernandez, if a natural disaster were to happen and which we have gone through recently".
"I think the vessel is ideal for support of remote or isolated zones as well as an effective transport for Marines and Army personnel", added the Chilean navy commander.
According to Defence sources negotiations are in their final phase and could be over by the end of November.
"Once remaining details and the timetable have been finalized and the contract signed, we expect the vessel will be arriving in Chile during the first half of next year", reported the Chilean Navy.
'Foudre (L 9011)' is the twelfth vessel to bear the name, and lead ship of her class.
She was launched November 1988 and in service since December 1990. She has a displacement of 11.300 tons, and 12.000 tons full load, with a length of 168 meters, beam 23.5 and draught, 5.2, and can speed at 21 knots. In emergency situations she can evacuate up to 1.600 people.
'Foudre' is equipped with 8 landing crafts and has a 150-man command headquarter and can carry 450 troops or 900 for a short cruise. The crew is made up of 20 officers, 80 petty officers and 60 quarter masters. Besides she has a 51 bed hospital, two operating rooms, Y rays, labs and special clinic for burnt patients.
She is armed with 3 Simbad systems, 3.30mm Breda.Mauser guns and 412.7mm M2.HB Browing machine guns. Besides she has the capacity to carry four helicopters.
According to reports in the French defense media on 2010, the ship was offered to the Argentine Navy. Argentina had already declined an offer for the Ouragan class before due to asbestos concerns.
In October 2011 it was announced that Chile and France had finalized negotiations for sale of Foudre to Chile for around 80 million dollars.