Former personal surgeon says Chavez has a very aggressive 'pelvic tumor'
Monday, October 17th 2011 - 21:31 UTC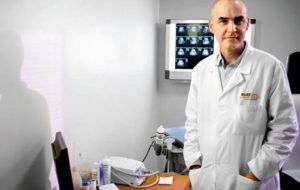 Venezuelan President Hugo Chavez is undergoing "rigorous" medical exams in Havana where he traveled Sunday night and hopefully will be back in Caracas mid week with "good news".
Chavez anticipated doctors would perform an "integral review" of his body to confirm the results of the first stage of cancer treatment that included four rounds of chemotherapy. Chavez has said tests showed no malignant cancer cells in his body.
"I thank God I'm on my feet and heading the government after these four months of treatment," Chavez said last night from the Caracas airport in comments broadcast on state television.
Chavez plans to fully recover from his undisclosed cancer by year's end to launch his campaign for a third consecutive six-year term in elections scheduled for next October. Chavez's approval rating has risen 10 percentage points to 58.9% since he announced that he had cancer, according to Caracas- based polling firm Datanalisis.
However a former surgeon of Chavez said hopes for the president's recovery were very slim and the charismatic leader has less than two years to live.
In an interview with the Mexican Milenio Semanal edition on Sunday, Salvador Navarrete, who had been Chavez's personal surgeon in Venezuela, was rather pessimistic in his forecasts.
"When I say this, it means that he has no more than two years left" said Navarrete who had been caring for Chavez from 2002 until recently.
"Judging by the information from his family, Chavez has a tumour in his pelvis, or sarcoma, and this is why he is receiving such aggressive chemotherapy treatment," he said.
In June, Chavez underwent two operations in Havana: one for a pelvic abscess and another one for a malignant tumour in the intestines.
In late September, Roger Noriega, a former US Assistant Secretary of State for western hemisphere affairs, accused the Venezuelan authorities of concealing the truth about Chavez's health ahead of the elections. He also warned the U.S. authorities of the possibility that the Venezuelan leader could leave the political scene.
Noriega quoted "sources" as saying that Chavez's health was very poor and the treatment was not having the desired effect.
Navarrete in turn described the leader of the Bolivarian Revolution as distrustful.
"Now he only trusts Cuban doctors," he said, adding that Chavez also had a fixation on cleanliness, drank countless cups of coffee a day and could have a cigarette to ease stress.
He also said the Venezuelan president preferred to work at night and liked simple interiors. "Chavez is a very tidy man with attention to detail, and strict," Navarrete.