What crisis? Luxury sector forecasted to expand 10% this year; Great China leads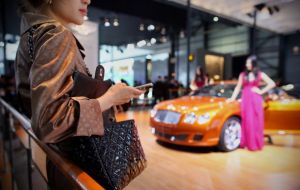 The luxury sector is set to post double-digit growth this year to 191 billion Euros driven by the appetite of the Great China consumers for top-quality goods, according to a study by Bain & Company released on Monday
While "the global economic situation is difficult" the luxury sector "is in good health and is growing above all in Asian markets" said Santo Versace, head of the Italian fashion house and the Altagamma Foundation of Italian luxury companies that commissioned the study.
The growth forecast was revised up to 10% from 8%, but still falls short of the 13% growth the sector recorded last year.
Asia remains the driver of growth for the luxury goods sector, with a 25% jump in sales expected.
Sales growth should hit 35% in mainland China this year to 13 billion Euros and Bain & Company said there is "no sign of slow down from the Asian giant."
Including purchases made abroad, Bain & Company estimated that Great China customers (including Hong Kong, Macau and Taiwan) account for more than 20% of global luxury consumption.
Despite the devastating Fukushima earthquake and tsunami, Japan is expected to eke out 2% growth, mostly due to the effects of the strong Yen. North America should see 8% and Europe 7%.
Product-wise, watches and jewellery are expected to post the strongest growth of 18%, followed by accessories at 13%. Clothing is expected to see an 8% increase and perfumes and cosmetics a 3% gain.