Human rights commission calls on Morales to protect Amazon Indian tribes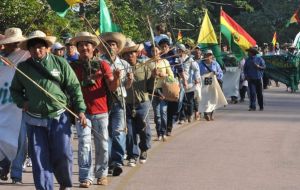 The Inter American Human Rights Commission called on the Bolivian government to protect the indigenous tribes protesting the construction of a road crossing their reservation, following on reports of use of excess of force by the police in charge of containing the protest march.
"Given the use of excessive force by the police in the repression of the 25 September 2011 march, the IACHR calls on the State of Bolivia to urgently adopt all necessary measures for the due protection" of the demonstrations, said a release.
Hundreds of indigenous people from the Amazon region are marching to La Paz since August to protest the construction of a road, alleging it crosses pristine wildlife in an ecological park belonging to their reservation and which would cause terrible damage.
Demonstrators are less than a day's march from La Paz and seat of the Bolivian government where on Wednesday they plan to peacefully hold a sit-in until their demands are met.
"Bolivia must exercise control of demonstrations in the framework of respect for the Inter American human rights standards", recalled IACHR.
"The action of the security forces must not discourage the rights of reunion and peaceful demonstration, but rather protect and ensure them", added the release.
Repression against the Amazon indigenous tribes at the end of September made President Evo Morales announce the suspension of the project until a referendum is held on the issue.
However the tribes demand a clear position and commitment from President Morales that the road will not be constructed through their lands.
Tribes fear an invasion of loggers, miners, rare species hunters and occupation by organized landless peasants.
The road is part of a major Brazilian project to link the Atlantic with the Pacific oceans. The project in Bolivia is financed by Brazil.
Bolivia's indigenous president Evo Morales has organized several rallies to endorse the road project with the support of the quechua and aymara high land tribes to whom he belongs and constitute his strong electoral foundation.