Rioting in Santiago on the first of a two-day national strike in support of students' demands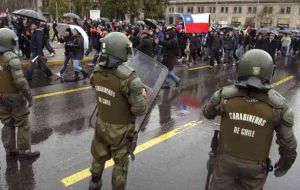 Chilean students have erected fiery blockades in major streets of the capital and clashed with police on Tuesday, first day of a two-day national strike to demand that the government reform the education system.
Masked protesters launched homemade firebombs at police before taking refuge inside university and other school buildings. They also lit a public bus on fire outside a university campus after its passengers fled. The clashes jammed traffic throughout Santiago.
Students have been protesting for more than five months to demand free public education for all; reduced state subsidies for private colleges; and improvement in the quality of education overall. They called the two-day demonstrations to protest the lack of an agreement with the government.
The city's emblematic Alameda Avenue was gridlocked after protesters set fire to barricades near the University of Chile and the University of Santiago. Television footage showed police using water cannons to try to clear the streets of protesters.
The demonstrators vowed more turmoil overnight and over the course of the day Wednesday, when huge protest marches were planned in downtown Santiago.
The latest phase of the student upheaval in Chile coincides with youth-led Occupy Wall Street protests in New York and other major cities across the globe.
The students said they have decided to refuse further negotiations with the government because it had not moved toward their demands for free public education through university. At the moment, only about 40% of students qualify for free education based on parents' income.
Classes have been on hold for months in many schools and universities during the long-running demonstrations, which routinely draw tens of thousands of students into the streets. It is the largest protest movement in Chile since General Augusto Pinochet's military dictatorship ended in 1990.
The government has said the students are radicals with whom it has been futile to negotiate. A general strike in August in support of the students led to an eruption of clashes and violence.
Giorgio Jackson, president of Universidad Católica's student federation, currently on a European tour invited by the Organization for Economic Cooperation and Development (OECD) said that the Chilean government will have to explain why there is discrimination in education that contradicts the treaties that Chile has signed.
Jackson also strongly rejected Chilean government accusations that the students' visit to Europe would "damage the country's image".
"We have not come to tell lies, we won't say anything other than what the OECD has already put on the table" Jackson was quoted in Paris.
"This [tour] does not have to do with [President] Piñera or any government in particular," said Jackson. "They have managed the situation very poorly, that's clear . . . [but] the problem has to do with society and the state."
On Sunday student leaders -- including Confederation of Chilean Students, Confech spokesperson Camila Vallejo, who was a last-minute addition to the team -- met with two famous French intellectuals, Stephane Hessel and Edgar Morin.
Hessel, the French philosopher, is credited with inspiring the "indigandos" movement with his book "¡Indignaos!" that has sold millions of copies around the world. The 91-year-old greeted his guests with enthusiasm and reportedly spoke for the greater part of the 90-minute meeting.
He told students that "no oligarchy, political or economic, can be permitted as they don't further democracy or democratic systems".
But Hessel warned the Confech representatives that, "The only thing that we [as protesters] cannot permit is violence in any of its forms".
For his part, Edgar Morin told students that "superior education, university, should not be handed over to the market or to financial speculators, since there is no counterweight that can control them in the world".
He also advised the Chilean student representatives to learn from other movements around the world including the "extreme case of Egypt that overthrew a dictator".
Sunday's meeting with the French intellectuals came a day after "Global Revolution" protests, inspired by the "indignant protesters" movement that began earlier this year in Spain and convened thousands in cities worldwide.
Chilean student leaders took part in the protests in Paris on Saturday, and were honoured by locals who unfurled an enormous Chilean flag.
Two other student leaders, Francisco Figueroa, vice-president of Universidad de Chile's student federation, and Gabriel Iturra, representing Chile's high school students, arrived on Monday in Geneva to meet with representatives of the United Nations.
They also held a meeting in the faculty of humanities at the University of Geneva.
Student leaders are expected back Wednesday morning to take part in the second day of a two-day national strike.