Piñera looses support from business sector in the conflict over education reform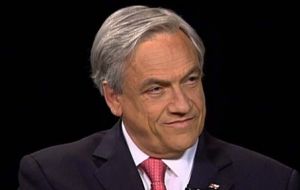 Following on the examples of their German, French and some US peers, Chilean business leaders have asked for an increase in taxes they pay to help finance social demands in spite of the strong opposition of President Sebastián Piñera administration.
"Once and for all we have to do something. Chile has grown at lot, but we must address the problem of inequality. For that we need a tax reform that helps solve the lack of fairness" said Felipe Lamarca former president of Chile's powerful business association, Society for the Promotion of Manufacturing.
Lamarca's statement was strongly supported by the Chilean exporters lobby, something which is considered as a 'first-time' in recent Chilean business history.
"Nobody likes to have taxes increased, that is the plain truth, but when your face serious problems and anguish, you must do it", said Roberto Fantuzzi head of the Chilean Export Manufacturers' association.
The announcement from both organizations takes place during the second day of national protests in Chile and when the administration of President Piñera has adopted a more inflexible attitude towards students' organizations that have been protesting for the last six months demanding free schooling from primary to university.
"There are some who believe that the only education that matters in higher education" said President Piñera on signing at Government House (Palacio de la Moneda) a bill that elevates expenditure on a budget per capita basis for primary and secondary education.
"Social demands can't destroy all that we have managed to build in this country", said Finance minister Felipe Larraín during a meeting with business leaders. Larrain is also radically opposed to increasing taxes.
President Piñera's leads the first Conservative government since the return of democracy in 1990 and he is personally a very successful businessman and among the richest in Chile.
In a related event students and professors who organized two protest marches in Santiago on Wednesday delivered at the La Moneda Palace a letter with the results of a public opinion poll in favour of free education, in which 1.5 million people expressed their views.
The demonstrations, in the midst of the congressional discussions for the 2012 budget triggered after the government rejected the investment package as requested by both government and opposition members.
"It would a great step forward that 60% of students from poorest households are given scholarships", said the Dean of University of Santiago, Juan Manuel Zolezzi.
The demonstrations that have barraged government support to 25/30% according to the latest opinion polls have taken millions of Chileans to the streets in support of student demands but government stubbornly rejects awarding such benefits.
Chile is a country where, in spite of its impressive development in the last two decades and described as the darling show case of Wall Street and foreign investors, over half of households has to survive with less than 900 dollars per month and a good education costs thousands of dollars annually, even in government supported universities.
Families and students therefore are forced to take loans from banks at higher rates than normal market reference and has become a financial business involving several billion dollars annually.
The latest polls indicate that 90% of the Chilean population support the students demands which has also received international support from multilateral organizations such as the World Bank, IDB and OECD with technical studies that have gone as far as describing the Chilean system as 'clearly discriminatory', with the lowest per capita investment in education according to OECD parameters.
The demonstrations also are taking place less than a year ahead of municipal elections scheduled for 2012. The presidential election is calendared for 2013.