Argentina, Brazil and Mexico attempt to harmonize positions ahead of G20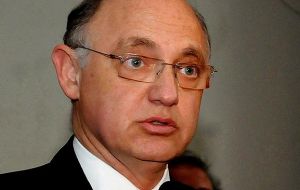 Argentina, Brazil and Mexico meeting in Uruguay ahead of the G-20 summit in France next November, agreed to demand a greater role for the region in global affairs and in helping to resolve the global economic crisis.
The meeting hosted by Aladi, (Latin American Integration Association) seated in Montevideo was opened by the organization's Secretary General Carlos 'Chacho' Alvarez who described the event as a "debate rehearsal" so that in not a too distant future, "Latin America can have an only voice when faced with significant international events".
He underlined that the current crisis is 'paradigmatic' in so far that the region is for the first time 'not an object of history' but rather 'an actor in a world which increasingly is identified with regions".
Unasur Secretary General Maria Emma Mejia said that Latin America "could help" Europe "how to overcome the current crisis" given past experiences. However she demanded a greater 'harmonization' between the different multilateral regional organizations such as Aladi, Mercosur, Cepal and Unasur emphasizing on the need of a plan B, in case the effects of the crisis impact on the region.
Argentine Foreign Affairs minister Hector Timerman said it was his country's intention "to add voices from the region to enrich the debate" although he did not suggest that the country should exercise the formal representation of Latin America in the Cannes summit.
Timerman anticipated that Argentina would support the French and German proposal to tax international financial operations, (on certain conditions) one of the most controversial issues at the coming G20, besides the current Euro confidence crisis and recapitalizing of banks.
The minister also called for more efforts in correcting speculation in financial markets and criticized rating agencies and fiscal havens.
The Brazilian delegate Valdemar Carneiro Leao said that the world leading economies must show greater political capacity in adapting to conditions of the global crisis, and insisted on addressing the Greek situation and the recapitalization of the EU banking system.
Roberto Marino from Mexico said his country would concentrate on priority efforts for the region and the emerging economies overall. "This will be one of the main issues when Mexico occupies the presidency of G20 in 2012"
More specifically on the current crisis and the Cannes summit Marino anticipated it was essential for G20 leaders to work in re-establishing confidence among consumers and investors, "with cooperative and long lasting solutions to the Euro debt crisis".