Ecuador president condemns killing of Gaddafi and family members as 'homicide'
Monday, October 24th 2011 - 06:12 UTC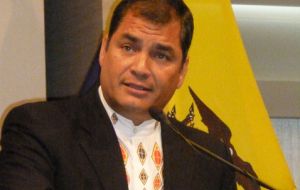 Ecuadorian president Rafael Correa described the death of former Libyan leader Muammar Gaddafi as a "murder" and strongly rejected foreign in the North African country.
"It was murder" said the Ecuador leader in his weekly broadcast report when talking about the killing last Thursday in Sirte, his home town, of Gaddafi who was "captured alive" and in a "summary execution" shot in the head, added Correa.
"It's homicide that three grandchildren, one and two year olds, and a son of Gaddafi were killed, and this must be investigated by United Nations", underlined the Ecuadorian president.
"We are not defending the regime of Gaddafi, we defend the sovereignty of countries, non intervention" said Correa and went on to ask, "why didn't they intervene against Pinochet and the military regimes of Argentina and Uruguay?"
"Gaddafi was captured alive and executed and there are people celebrating and there are others who opt to remain in silence. But they killed his sons, his grandchildren, ¿in what world are we living?"
"If this would have happened to Pinochet I would be making exactly the same argument, because it's not a matter of Pinochet or Gaddafi, it's the human rights of every person because of their intrinsic dignity, which is independent of the crimes these dictators have committed", said Correa.
Last Thursday the acting Foreign Affairs minister Knitto Lucas said Ecuador does not recognize the Libyan National Transition Council created by the Libyan rebels last February to command the popular uprising against Gaddafi.
"We do not recognize the NTC and we will continue in that line" said Knitto Lucas. "We are against all foreign interventions and NATO did not have to come to want to resolve the problem for the Libyans", he added.
The Ecuadorian government position, although not exactly aligned behind Venezuelan President Hugo Chavez brain child ALBA (Bolivarian Alliance of the Americas), is similar in so far they openly condemn foreign intervention and NATO decisive interference in deposing Gaddafi.
Chavez also attacked NATO and the US arguing the ousting of Gaddafi, his friend, had the sole purpose of plundering Libya and 'stealing' its rich oil reserves.