South Georgia expects 51 cruise calls and 5.000 visitors for the 2011/12 season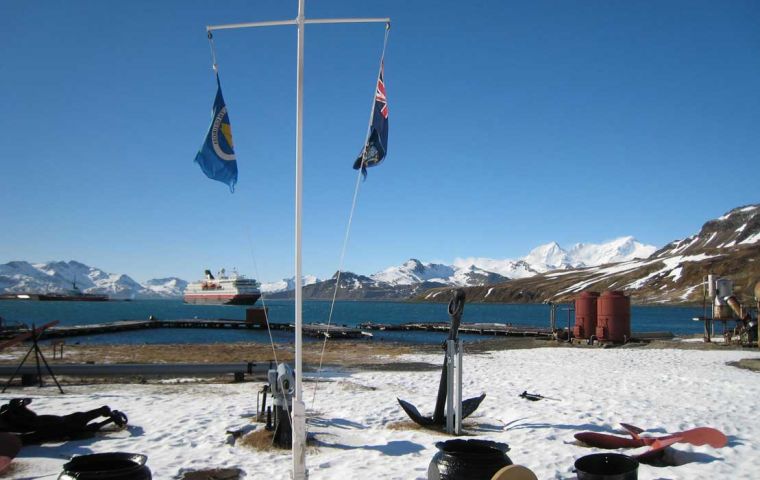 Fifty one cruise visits have been booked for the current 2011/12 season in South Georgia, extreme South Atlantic, with a potential number of 6.350 visitors (were they all to be full), but with the actual figure likely to be nearer to 5.000. Two cruises "L'Austral" and "Island Sky" will be making their first ever visit to South Georgia.
According to the latest edition of the South Georgia Newsletter even when South Georgia continues to be a popular cruising destination, there is a decrease in passenger numbers since the peak for the industry in 2007/08. This is attributable to current uncertainties in the world-wide economy.
During the 2010/2011 season South Georgia received forty six cruise calls by 18 different vessels with the total number of visitors reaching 5.354. Most cruise ships continue to carry 150 passengers or fewer.
There were 17 less visits, and passenger numbers were down 26%, compared to the previous season, which continues a downward trend since the peak for the industry in 2007/8.
All vessels are required to call at Grytviken, the centre of administration, at some stage of their visit, and after this the most popular visitor sites were: Gold Harbour with its stunning glacial backdrop to a large king penguin colony and concentrations of other wildlife including a chinstrap penguin colony; Salisbury Plain, with fabulous mountain scenery and a flat walk to a sizeable king penguin colony; Stromness with its valley beyond the safe limits of the whaling station, breeding elephant and fur seals and the end of a popular hike from Fortuna Bay in the steps of Shackleton and his men; Prion Island where wandering albatross and pipits nest. Also of interest were St Andrews Bay and Fortuna Bay.
Extended walks remain popular; indeed, even more than last season were undertaken. An extended walk is one of more than 1km from the landing site. Seventy walks were undertaken in 15 sites by more than 3,000 passengers in total. The 'Shackleton Hike' from Fortuna to Stromness was done 29 times by a total of 1,341 passengers.
Also increasing in popularity are short kayak trips offered by some cruise ships. Nearly 400 passengers participated in these in 18 locations, the highest number in Hercules Bay where kayakers could enjoy sheltered waters whilst being in proximity to steep cliffs and macaroni penguin colonies.
Recreational diving was undertaken from 2 ships in 9 different sites, involving no more than 6 passengers at any one time.
There were three new cruise ships during the past season: "Le Boreal"; "Sea Spirit" and "Marina Svetaeva". Passengers came from 52 different countries: 25% USA; 20% Germany; 12% UK; 11% Australia; with between 2 and 5% from Switzerland, Canada, France, Netherlands, China and Austria.
Stats show that there were also a total of nearly 500 staff and 3.200 crewmembers on the ships.
Fourteen yacht visits were made during the 2010/11 season by 13 different yachts. Nine yachts were engaged in charter work supporting expeditions, film crews and passengers, the other four were private visits.
There were also five visits from patrolling Royal Navy vessels and five by research ships.