Argentine lawmakers present Falklands' motion before the Parliamentary Union
Wednesday, October 26th 2011 - 13:28 UTC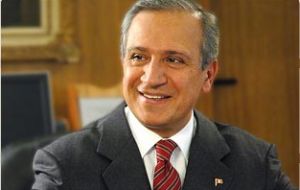 Argentine lawmakers participating of the Inter Parliamentary Union, IPU, in Switzerland presented a motion referred to the Falklands/Malvinas, calling for a ban on the exploitation of natural resources in those countries that have been invaded by military forces.
Parliamentarians from all over the world met last week in Berne for the 125th meeting of the IPU where Argentina was represented by three federal Senators belonging to the provinces of Salta and Santa Fe, Juan Carlos Romero, Sonia Escudero and Ruben Giustiniani.
IPU addressed a long agenda which had as main topics the famine in the horn of Africa (Somalia), sustainable development, natural resources and human rights.
The 'urgent' motion presented by Senator Romero in the name of the Argentine delegation states that countries invaded by military forces, can't be used for the exploitation of their natural resources in direct reference to 'our Malvinas Islands' and other countries under foreign military rule.
The motion is to be considered for the next IPU assembly scheduled to take place in Kampala, Uganda, from 31 March to 5 April 2012.