Centennial of Amundsen and Scott's South Pole feat next 14 December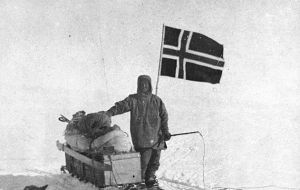 British and Norwegian teams are in Punta Arenas, extreme south of Chile, preparing for a repeat of the South Pole feat on 14 December 1911 first accomplished by explorer Roald Amundsen and a month later by Sir Robert Scott.
According to a piece in La Prensa Austral, the UK team is made up of six members from the British Army and will re-edit Scott's adventure who on two occasions tried to reach the South Pole: first in 1901 to 1904 and the second 1910/1913 on the 'Terranova' which enabled him to reach his goal 17 January 1912, following on the steps of Amundsen.
The British expedition sponsored by Prince William will divide in two teams, one will follow the Norwegian explorer's steps and the other Scot's, both hoping to collect funds for the British Legion.
The first team is under the command of Henry Worsley, together with Lennie Browne and Lou Rudd. They will be leaving from Whales bay and the other team is made up of Mark Langridge and his companions Kevin Johnson and Vic Vicary. They plan to start at Cape Evans and will be passing next to where Captain Scott and his men are buried.
It is estimated the march will take from 60 to 65 days.
Both Worsley and Langridge are not strangers to Antarctica: they have been before in different expeditions but chance had them meet in 2008 in Punta Arenas where they planned what they are about to commence.
As to the Norwegian team it is made up of professional skier Vegard Ulvang; scientist Jan-Gunnar Winther; explorer Stein P. Aasheim and writer Harald Dag.
They were planning to leave last 19 October, the same day as Amundsen begun his march to the South Pole but climate conditions prevented. However this puts additional pressure on the group to reach on time for December 14, when a special ceremony is planned.
Vegard and Winther confessed they have been planning and preparing a repeat of the epic adventure for over 30 months.
"Your logistics has to be perfect and physical condition must also be optimal, and even as important the psychological team work so that we are really mentally convinced we are an only, compact unit", said Winther.
Expeditions to the Arctic helped to concentrate minds and prepare the Norwegian team for the South Pole feat, hopefully before 14 December when the Norwegian Prime Minister will be at the exact point for a special centennial celebration to honour the indomitable Amundsen.