Ushuaia feeling the pinch from Chile's seduction policy to attract cruise vessels
Thursday, October 27th 2011 - 06:24 UTC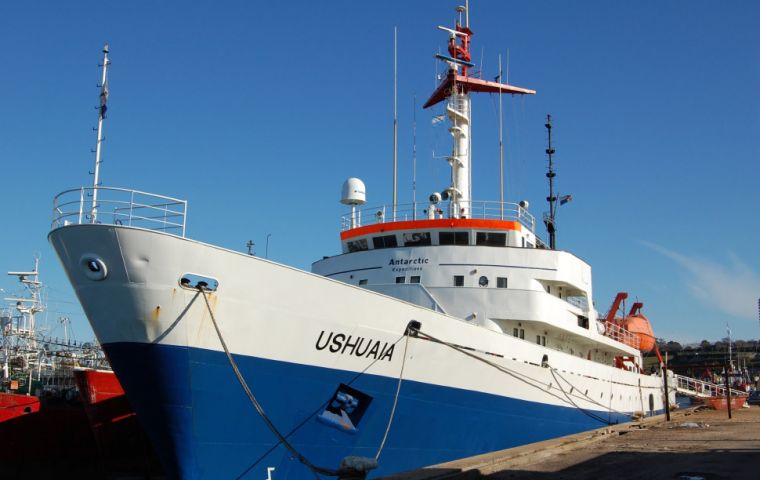 Argentina's extreme south city and Antarctica cruise hub, Ushuaia is feeling the pinch from the latest Chilean measures to attract more vessels and is requesting a costs adjustment to improve competition conditions.
The Ushuaia Tourism chamber argues that the increase in local port duties and services, plus insufficient infrastructure "will have an impact on the number of cruise vessels calling in the city" which is also known as the gateway for Antarctica cruises.
The Ushuaia tourism chamber, which brings together private operators and agencies, is also concerned with the 'seduction' policy implemented by neighbouring Chile which is reducing port and other services duties between 20% and 80% if cruise vessels call on more than one Chilean port.
"We are going to request local authorities to explain why the increase in local port and services fares and if so what improved services will the industry receive", said Marcelo Lietti, president of the Ushuaia Tourism chamber.
Although this coming Antarctic cruise season is anticipated to be poorer than the previous one and likewise in 2012/2013, "our concerns begin with the announced increase of up to 600% in services costs", said Lietti.
And this is happening when Chile is implementing seduction policies that include rebates of between 20% and 80% if vessels call in several ports plus the fact they will be allowed to operate their casinos in Chilean waters, added the Argentine entrepreneur.
"We have been informed that several cruise vessels will be calling at Puerto Williams, in Chile, across from Ushuaia because of the lower port and services costs", added Lietti who also complained about the lack of infrastructure in Ushuaia and the soaring maintenance costs for vessels.
"The 'Ushuaia' which is our main Argentine flagged vessel involved in Antarctica cruises opted to have maintenance and repair works in the neighbouring Chilean city of Punta Arenas because of our costs totally out of proportion, it's shameful for Ushuaia that this should have happened", underlined Lietti.