Wall Street growing insider trading scandal catches another big fish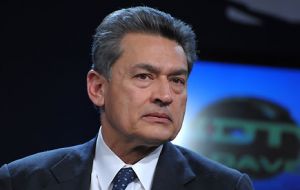 Ex-Goldman Sachs director Rajat Gupta has turned himself in to the FBI and pleaded not guilty in court to securities fraud before being freed on a 10 million dollars bail.
The indictment of the biggest fish yet in a growing insider trading scandal reverberated around Wall Street, where more than 50 fraudsters have been netted since 2009 in an intensifying crackdown by prosecutors.
Gupta's appearance in a Manhattan courtroom was a stunning turnaround for the former managing director of consulting powerhouse McKinsey & Co., a corporate giant who sat on the boards of Goldman Sachs and Procter & Gamble.
Gupta, 62, was charged with five counts of securities fraud and one of conspiracy to commit fraud. He is the most prominent executive to face charges since Rajaratnam was arrested in October 2009.
Galleon Group hedge fund founder Rajaratnam, 54, was sentenced to 11 years in prison this month after an overwhelming insider-trading conviction. The Galleon case caught many of his associates on secretly recorded phone calls, and many were also been prosecuted.
Gupta's lawyer, Gary Naftalis, said in a statement that there were legitimate reasons for communications between his client and Rajaratnam, including a 10 million dollars investment that Gupta had in a fund managed by the Galleon founder. Gupta lost the entire amount, Naftalis said.
"We are confident that these accusations -- which are based entirely on circumstantial evidence -- cannot withstand scrutiny and that Mr. Gupta will be completely exonerated of any wrongdoing," Naftalis said.
He said Gupta did not trade in any stocks and did not tip Rajaratnam so he could trade. Manhattan US Attorney Preet Bharara said in a statement on Wednesday that Gupta had the trust of top companies.
Gupta also faces civil charges brought by the US Securities and Exchange Commission. The SEC said Rajaratnam's funds made more than 23 million dollars on Gupta's information.
The criminal charges carry a maximum prison sentence of 25 years.