Argentine groups take Falklands/Malvinas dispute to Internet domains
Friday, October 28th 2011 - 16:54 UTC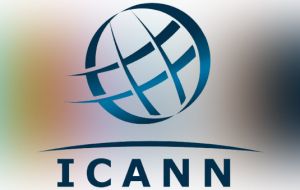 The Falklands/Malvinas sovereignty dispute has reached Internet domains with Argentina's president of internet users appealing to ICANN to cancel 'fk' for those pages related to the Islas Malvinas alleging they are not a state or territory.
ICANN stands for Internet Corporation for Assigned Names and Numbers.
"The fact ICANN has accepted fk for the Malvinas pages is not in accordance with the current negotiations between Argentina and the UK, since the UK is not promoting the creation of an independent state in the Malvinas Islands", said Sergio Salinas Porto, president of the Argentine internet users association.
"We have come to realize that the Islas Malvinas have a treatment contrary to that of Argentine interests and the position upheld by each and all of the states of our Latin American region regarding this issue since the Malvinas, South Georgia and South Sandwich are given a status of 'State or territory', marking a difference with the National Argentine State and its national territory", argued Salinas Porto who is also vice-president of the Latin American Federation of Internet users and representative before NGO LACRALO (Latin American and Caribbean Islands Regional At-Large Organization).
ICANN meets three times a year and at the last event in Dakar, Senegal, Salinas Porto called on the organization to take into account that "Argentine citizens, when the ICANN refers to territories, do not want these islands (Malvinas) to be considered as territories separated from their State".
In 2007 ICANN named a task group to study and analyze issues related with the definition of Geographic Regions as used by the organization, "so as to solve problems related with the current definition of such regions by ICANN", according to Salinas Porto.
ICANN emphasizes it does not involve in sovereignty or territorial discussions but Argentine NGO argue that "when ICANN names territories, when it creates ccTLDs (dominions of higher geographic level) and when it awards a region those ccTLDs and when it announces 'territories' to which it grants an internet regional registry (RIR) that means it is taking a position, particularly when it states that 'fk' is a territory".
Finally Salinas Porto revealed that the different Argentine internet users organization sent to the ICANN task group on geographic regions a petition "requesting that the Malvinas, South Georgia and South Sandwich Islands are not considered as territories or independent states from Argentina and that the ccTLD.fk (dominion extended to the Falklands authorities) and likewise with 'gs' for South Georgia and South Sandwich, since they are integral part of Argentine territory, but in your reports are presented as separate territories from the Argentine Republic".