Dilma respects cabinet sharing: names another Communist new Sports minister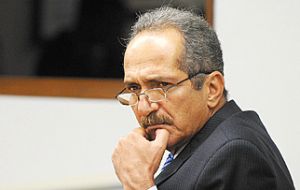 Brazilian president Dilma Rousseff appointed a Communist Party congressman as the country's new Sports minister Thursday, replacing Orlando Silva, an official from the same party who resigned as he fights corruption allegations.
The official government news service Agencia Brasil said that Aldo Rebelo will be the government's point man for the 2014 World Cup and 2016 Olympics.
Rebelo served as former president Lula da Silva's minister for political coordination and institutional relations in 2004 and 2005 and he was president of the lower house of Congress, the Chamber of Deputies, from 2005 to 2007.
"I received an invitation and I accepted" said Rebelo after meeting with President Rousseff.
Rebelo, 56, started as a student leader and journalist, joined the Communist party in 1977 and was first elected to Congress in 1991. Currently he was steering through Congress the new Forestry Code which basically regulates occupation of land and use of soil in the Amazon basin.
The original Executive text has had several chapters modified which allegedly favour big landowners and loggers and thus clashing with president Rousseff. At the time Reboledo went as far as to suggest that "the President is misinformed and influenced by radical environmentalist groups".
Candido Vaccarezza head of the government's group in the Lower House downplayed the conflict to which he referred as 'normal' in the political debate: "he is a very much respected lawmaker and you can't judge a person committed to peoples' causes on an episode".
Silva resigned Wednesday after Brazil's Supreme Court said it had opened an investigation into allegations he had taken kickbacks on sports-related projects. Silva has denied the accusations before a congressional panel.
Silva is the sixth minister forced from Rousseff's government. Five of the others also had faced corruption allegations.
FIFA's top administrator, secretary general Jerome Valcke, said Thursday that he regrets the situation that forced Silva to resign.
Meanwhile, the IOC said its relationship with Brazilian government officials "remains excellent," and that it is "confident the changes will not impact preparations for Rio 2016"