Falkland/Malvinas continues as "a colonial dagger in America" Timerman tells his peers
Saturday, October 29th 2011 - 03:51 UTC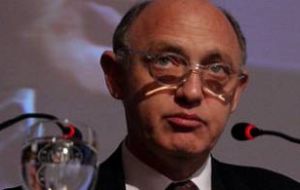 Malvinas continues as "a colonial dagger in America" said Argentine Foreign Affaire minister Hector Timerman during an Ibero-Latin American ministerial meeting in Paraguay ahead of the full summit on Saturday.
At the end of the Foreign Affairs ministers meeting Friday, in Asuncion, Timerman thanked his peers for their support to Argentina's sovereignty claims over the Falklands/Malvinas Islands and emphasized that the situation continues to be a colonial dagger in America".
"Argentina is a peaceful country and has no conflicts with nobody, except the UK" which refuses to begin negotiations on the Malvinas Islands sovereignty said Timerman who recalled the ten UN resolutions calling for a bilateral dialogue.
That is why Argentina "is not free of the colonial yoke but will not cease in attempting to achieve it".
The Ibero-American ministerial meeting agreed to include a statement on Argentina's Malvinas claim in the final declaration that will have the signature from the presidents of the regional block that includes Latin America, Spain, Portugal and Andorra.
"The support is very much valued and appreciated by the Argentine people. And it's not a stubborn Argentina position, rather we are talking of natural resources that are being exploited in Argentine territory. The sequence of events and the greed and abuse of the colonial power should be an instruction history book for our future generations", emphasized Timerman.
The ministerial meeting addressed a long agenda mainly initiatives referred to development with equality, defence of migrants and the right to peace, which were the motives chosen by the host Paraguay for the summit. Other issues included cooperation programs and agreements on industrial patents.
The plenary session of the summit with heads of government and state will take place Saturday at the emblematic building of the South American Football Confederation in Asunción.
In spite of the significance of the event which also includes the King of Spain, several regional leaders won't be present among them the presidents from Argentina, Brazil, Uruguay and Venezuela.
Cristina Fernandez is secluded in Rio Gallegos where this week she opened a mausoleum to the memory of her late husband Nestor Kirchner. Brazil's Dilma Rousseff is preparing for the coming G20 summit in France; Uruguay's Jose Mujica has plans to visit farming areas and is just back from a ten-day tour of European countries and Venezuela's Hugo Chavez is under chemotherapy treatment.