Trichet warns Euro crisis 'isn't over'; calls for precise, quick enforcement of deal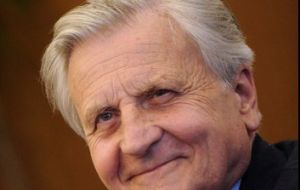 European Central Bank President Jean-Claude Trichet said in an interview in a German newspaper to be published on Sunday that the Euro zone sovereign debt crisis was not yet over and that it was too early for the all-clear signal.
In an interview to appear in Sunday's Bild am Sonntag newspaper, Trichet said that he was, however, confident that Euro zone governments would be able to restore financial stability provided the bloc's Stability Pact rules are comprehensively and more aggressively enforced.
Trichet said the agreements reached by European Union leaders this week need to be enacted in a very precise and quick manner. He called it "absolutely decisive" that those decisions are quickly and completely enacted.
He said the ECB will carefully track the progress of governments' reform measures and said the time had now come to "see some action."
"The crisis isn't over" Trichet told the German newspaper, according to an advance text released early on Saturday.
"But after the decisions made this week, I'm nevertheless confident that the governments will succeed in restoring financial stability" said Trichet in one of the final interviews of his term leading the ECB.
He said the precondition for that was "that the rules of the Stability and Growth Pact are more thoroughly and more aggressively implemented."