Argentina could finally decide to name ambassador in London, says Clarin
Monday, October 31st 2011 - 05:50 UTC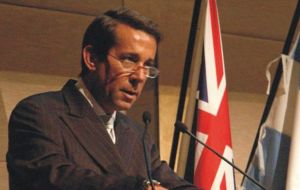 While Argentina' Foreign Affairs ministry prepares for a renewal of its main officials, according to Buenos Aires daily Clarin, among the possible policy changes beginning December 10, is naming ambassador in London, a post which remains vacant since 2008 when Federico Mirré period was over.
At the time the government of President Cristina Fernandez decided to leave the ambassador post vacant to protest London' reiterated refusal to resume Falklands' dispute negotiations and the 'unilateral' advances in the Islands fisheries and hydrocarbons policies.
One of the names mentioned, according to Clarin, is the current Secretary of Trade and International Economic Relations Luis Maria Kreckler, who is also considered (in business circles) a potential successor to Hector Timerman given his close association with Cristina Fernandez.
In 2009 former Culture Secretary Jose Nun was ready to move to London as ambassador at the same time Torcuato di Tella occupied the ambassadorial post in Rome. Nun credentials were considered by the Argentine Senate, but with the launching of the Falklands' oil round in February 2010 the whole initiative collapsed.
The Argentine government adopted a tougher stance towards the UK and the Falklands and the current escalation of events followed.
Clarin adds that Timerman who is aware of his almost certain fate and had previously served as consul in New York and ambassador in Washington, would like to move to London. Timerman in spite of his close contacts with the Jewish community in New York is no longer a 'nice' name in the State Department because of some of his attitudes involving US interests.
Apparently according to Clarin the current Deputy Foreign Affairs minister Alberto D'Alotto will be sent to Geneva; the Minister's cabinet chief Antonio Trombetta could end as ambassador in Belgium and the Alejandro Bertolo, head of protocol in Ottawa.
Some of the ambassadors who are expected to return are General Martin Balza, currently in Colombia; Jorge Remes Lenicov (European Union) and Carlos Bettini (Spain). The ambassador in Madrid is a close friend of CFK and could have a special post in the new cabinet. Finally the current Minister of Labour Carlos Tomada is a candidate to occupy the embassy in Santiago de Chile.