Brazil awaking to the possible prospect of political life without Lula da Silva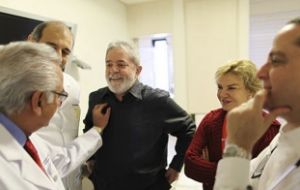 Brazil's popular former President Lula da Silva started chemotherapy treatment for throat cancer Monday with his doctors voicing confidence in his chances of being cured within four months.
Tests showed the tumour discovered on his larynx was not an abnormal type of cancer and should respond well to chemotherapy and radiation therapy, said doctors at the Sao Paulo hospital where Lula da Silva was being treated as an outpatient.
"The outlook is very good," said Dr. Roberto Kalil Filho, Lula da Silva's personal doctor who is part of the team treating him at the Sirio Libanes Hospital, a renowned cancer centre.
"There is no other problem that could worsen the prognosis or raise the chance of collateral effects. We think the chances are very good."
Lula da Silva's diagnosis on Saturday shocked Brazilians and raised the prospect of political life without the charismatic former union boss, who remains an influential force in Latin America's largest country.
Lula, who turned 66 last week, also had been expected to play a vital role in next year's municipal elections, helping stump for candidates from his left-leaning Workers' Party.
Even if he recovers from cancer, his health raises doubts over his ability to continue playing such an active role in domestic politics, especially if the illness damages his voice box and limits his ability to speak publicly.
Lula da Silva has been a key advisor for Rousseff this year as she has dealt with rebellious allies in her ruling coalition and weathered the resignation of six ministers, five of them over corruption scandals.
A prolonged absence for the leader, who cancelled all national and international trips for the rest of this year, could give Rousseff more of a chance to put her stamp on the government. Most of the ministers involved in the corruption scandals were Lula da Silva's appointees or allies.
Rousseff, who served as Lula's chief of staff, has taken a tougher line than her mentor on corruption. Before taking office in January, Rousseff was herself treated successfully for cancer at the same medical centre that is treating Lula.
Lula da Silva left office with high approval ratings after leading the country between 2003 and 2010 – a period of robust economic growth in which more than 20 million Brazilians were lifted out of poverty into the middle class.
He has been a major force since the late seventies when he was a fiery union boss who led massive protests against the military dictatorship at the time. In 1980, he helped found the Workers' Party, now the dominant force in Brazilian politics.
The tumour was localized and had not spread through Lula's neck or to his lymph nodes, his medical team said. He will have three chemotherapy treatments 21 days apart, which will cause him to lose his hair and his trademark beard. After that he will have radiation therapy. The doctors expect the treatment to end in February.