Unasur condemns presence of HMS Montrose in the Falklands
Monday, October 31st 2011 - 02:51 UTC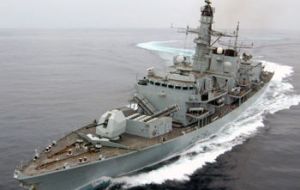 The Unions of South of American Nations, Unasur, rejected British military presence in the Falklands/Malvinas Islands and again reiterated their full support for Argentina's 'legitimate claims' in her dispute with the UK over the sovereignty of the South Atlantic islands.
Holding their annual summit in Paraguay last Saturday on the sidelines of the Ibero-American summit Unasur stated that the presence of the HMS Montrose in the South Atlantic for the next six months, as announced by the UK Defence ministry ('to maintain a continuous presence protecting British interests'), "is contrary to the region's policy committed to a peaceful solution to the sovereignty controversy".
Finally Unasur reiterates previous declarations in support of Argentina's legitimate rights over the Malvinas, South Georgia, South Sandwich Islands and adjoining maritime spaces and ratifies its permanent regional interest that the UK resumes negotiations with Argentina so as to find as soon as possible, a peaceful and definitive solution to the dispute in conformity with what was established by the international community and UN and OAS resolutions.