Boudou says Argentine foreign exchange market with stabilize in a few days
Tuesday, November 1st 2011 - 20:41 UTC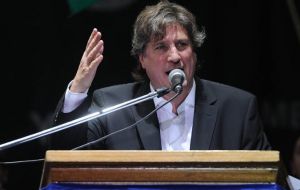 Argentina's Economy Minister, Amado Boudou, came on stage again on Tuesday to bring calm to markets Monday's debut of the very strict measures in the foreign exchange market strongly limiting the purchase of US dollars.
During radio conversations, the Minister indicated that "within a couple of days we'll all see this programme as something temporary and that we should move forward", and added, "There were some technical difficulties during the first day, and we learnt several things in order to make the necessary adjustments. Today everything will work smoothly."
The programme gives the Central Bank the power to authorize or not all sales of foreign currency through banks, exchange houses, ATMs, Internet banking and phone banking.
Furthermore all operations must be checked with Afip, Argentina's tax revenue office to check that whoever wishes to operate has the turnover and sufficient assets for his involvement in foreign money deals.
Likewise, the recent elected Vice President remarked that "Those who have their numbers and accounts in order have nothing to fear, but those who try to speculate with foreign currency operations better know that it will not be allowed anymore as we are trying to tackle down money laundering".
"We're not facing any problem with the foreign exchange market", said the Vice-president elect who minimized inconveniences and insisted that only those wishing to "launder money" or "speculate with foreign currency" are having difficulties.
Nevertheless the Argentine central bank ended Monday selling 100 million dollars which is less than half what it was operating the week leading to 23 October elections.
Boudou accused Buenos Aires dialy La Nación of making up a "media operation" to scare people and promised there would be no sudden jumps or volatility in the market.
"Let me tell you this government has been managing the exchange rate, to the benefit of all, including doom forecasters, for the last eight years" underlined Boudou.