Falkland's latest set of stamps features penguins, predators and preys
Tuesday, November 1st 2011 - 04:56 UTC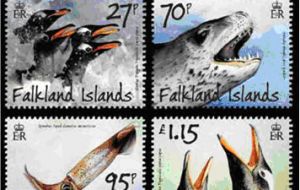 A set of stamps created by Falkland Islands artist Tony Chater entitled Penguins, Predators and Prey will be released on November 16.
Pobjoy Mint says this is a series of stamp issues featuring, in turn, each of the familiar Falkland penguins, together with some of their respective predators and prey.
This issue features the Northern Gentoo Penguin (27p) and includes one predatory species, the Leopard Seal (70p) and one prey species, the Gonatus Squid (95p).
The final stamp comprises a Gentoo 'mutual display' (£1.15)