Argentine economy to expand 9% this year, says the Central Bank
Wednesday, November 2nd 2011 - 04:20 UTC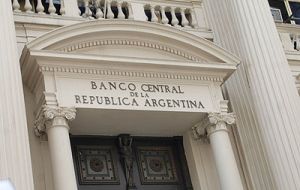 Argentina's central bank estimates that the country's economy will expand 9% in 2011, above the central government forecast of 8.3%, according to the latest quarterly report released this week.
The Argentine economy has been growing at 'Chinese rates' stimulated by a strong domestic demand, vigorous grain and oilseeds exports and a solid industrial base, particularly automobiles sales to its main trade partner Brazil.
"Domestic demand continues to sustain the increase of local economic activity" said the inflation report for the third quarter of the year. "Private consumption remains as the main engine for economic advance"
South America's second largest economy expanded 9.2% last year and the administration of President Cristina Fernandez, re-elected by a landslide 23 October, has estimated growth for this year at 8.3% and 5.1% next year.
The central bank said that it expects economic growth next year to continue expanding but at more moderate rates, given expectations of "a weaker increase of international economic activity".
In related news the Argentine national stats agency, Indec reported that construction grew 11.7% in September compared to the same month last year and 4% over the previous month.
Similarly the use of public service registered a 10.7% increase during September year-on-year, according to Indec. During September, the sectors that increased the most were telephone services (22.1%), tolls (5.5%), and Electricity, gas and water (3.1%).
Compared to August, the index reported that the use of services rose 1.04%, while it climbed 11% during the first nine months of the year.
The tax office AFIP also reported that fiscal revenue climbed 31.8% and totalled 47.555 billion Pesos in October compared to the volume registered during the same month last year. The official data shows the Income Tax rose 44.7% reaching to 8.922 billion Pesos. Meanwhile, the VAT climbed 29% to 13.056 billion Pesos; and the Export Rights, 18.5% to 5.828 billion.
However in spite of the rosy stats, inflation remains as the main challenge for the administration of President Cristina Fernandez since prices according to private estimates has been running at least double the official accepted rate.