Brazilian industrial production contracts the most in five months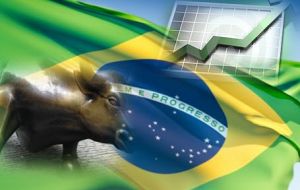 Brazilian industrial production fell more than expected in September, posting its steepest decline in five months and bolstering the central bank's argument for more interest-rate cuts in Latin America's largest economy.
Output fell 2% in September the biggest decline since a 2.3% contraction last April and shrank 1.6% from a year ago, the national statistics agency said Tuesday in Rio de Janeiro.
Brazil's industrial sector has been the hardest hit by Europe's debt crisis and slowing growth in the US The economic activity index, a proxy for GDP contracted 0.53% in August, its biggest monthly drop since the global financial crisis of 2008.
In an attempt to protect Brazil from the worst of the crisis, the central bank last month cut interest rates by half a percentage point for a second time, lowering the benchmark Selic rate to 11.5%. Economists expect policy makers to lower borrowing costs a further half-point this month, and to 10.50% by the end of 2012, according to a central bank survey of about 100 economists published Monday.
Production of capital goods, a barometer of investment, fell 5.5% in September, the statistics agency said Tuesday. Manufacturing of durable goods led all other categories, declining by 9%, shrinking at more than twice the 4.2% negative pace registered in August.
In the first half of the year, President Dilma Rousseff gave tax breaks to manufacturers and raised levies on imports from China after a surge in the Real made Brazilian goods less competitive.
The European debt crisis prompted investors to sell emerging market assets, pushing Brazil's Real down as much as 18% against the dollar between August and October. Over the past month the Real pared its losses, gaining 8%.
Central bank President Alexandre Tombini said in Sao Paulo on Monday that the world economy is likely to have a prolonged period of slow growth as it recovers from a debt overhang, and that "moderate adjustments" in interest rates are consistent with inflation converging to its 4.5% target next year.