China on 'harmonious mission' in the Caribbean to show it's a responsible power
Wednesday, November 2nd 2011 - 04:06 UTC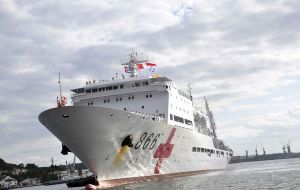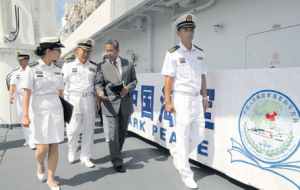 A Chinese navy hospital ship has landed dozens of doctors and nurses in Jamaica on a humanitarian mission to treat the needy on the Caribbean island. The mission is part of a global campaign by Beijing to portray its rapidly growing military as a responsible power.
The People's Liberation Army's "Peace Ark" ship carries more than 100 medical volunteers who are providing free surgery, CAT scans, eye care and other procedures.
The Chinese Embassy in Jamaica says the floating hospital emblazoned with bright red crosses was launched three years ago and is making its second trip abroad. Besides Jamaica, the vessel has already visited Cuba and has plans to call at Trinidad Tobago and Costa Rica.
The 14.000 tons displacement vessel is 178 meters long with a total crew of 415 including 107 specifically involved in sanitary operations. The current operation has been named "Harmonious Mission".
Although China's robust military build-up may make its neighbours nervous it is also increasingly using the army as part of its charm offensive abroad. In effect the People's Liberation Army, PLA, in a cultural shift for an institution known for strident nationalism and unbending loyalty to the Communist Party, is expanding overseas aid missions and military exchanges in a major way.
The diplomatic push is part of a larger global campaign by the Chinese government, aims to portray China as a responsible rising power, while softening the image of the 2.3 million-member military and boosting its ties with other nations' armed forces.
China's "soft power" drive also includes foreign aid, cultural exchange and a massive expansion of state television to reach foreign audiences — all attempts to win friends and correct what China considers to be a biased Western portrayal of it.
The military took its first big stab at overseas disaster relief last year, sending helicopters to help out with floods in Pakistan. Last month, the air force flew 7,000 tents to the once-again flood-ravaged country and it is also shipping aid to flooded areas of Thailand.
The PLA has also become the biggest contributor of manpower to U.N. peace keeping missions, and its navy is part of a multinational anti-piracy flotilla off the coast of Somalia.
"The international community expects China to play such a role and that is part of China's foreign policy," said Xiong Zhiyong of the China Foreign Affairs University in Beijing.
Only recently has the PLA acquired the skills, equipment, and political will to carry out such missions. Its previous inability to provide relief overseas was especially evident following the 2004 Asian tsunami.
While the U.S. Navy and other countries' militaries rapidly shipped in huge amounts of aid and personnel, and winning tremendous goodwill for their governments, China could do little more than send a medical team to Indonesia, along with tents and other supplies.
Overseas missions also help grow its ability to deal with domestic disasters, such as the massive 2008 Sichuan earthquake, Xiong said.
"There is little trust between China and the U.S. so China's recent response is to demonstrate its military capability, which also fits its commitment to helping the global community," said Ni Lexiong, a military expert at Shanghai University of Political Science and Law.
Humanitarian missions such as the dispatch of a hospital ship to Cuba also deliver a signal of China's military resolve to its own public without risking actual confrontations with the U.S. or others, Ni said.
"The enormous public pressure requires a response and this doubly demonstrates the Chinese navy's logistical capability," Ni said.