Colombia dissolves domestic intelligence service embroiled in scandal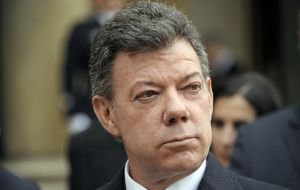 Colombia's president dissolved the country's domestic intelligence service, an agency that had become embroiled in scandal during the term of his predecessor.
The functions of the agency, known by the DAS, will be split up among existing ministries.
"Today DAS turns 58 years old, and at 58 we are going to liquidate it," President Juan Manuel Santos said in a speech where the announced that he had signed the decree ending the agency.
"This is not a transformation, not a reform; the case of DAS is liquidation, DAS is done away with".
In the most recent fallout of the scandals facing the agency, Colombia's Supreme Court of Justice in September sentenced a former DAS chief to 25 years in prison for his connections with paramilitary groups.
Judges ruled that Jorge Noguera gave right-wing military groups lists of union leaders, students and left-wing organizers so they could be executed.
The court also ordered Noguera to pay a 1.9 million dollars fine.
Noguera, who had been appointed by former President Alvaro Uribe, was head of the DAS from 2002 to 2005.
Critics allege that Uribe was behind wiretapping conducted by the DAS while he was president.
Several former officials and staffers of the agency have already been sentenced to serve prison time for wiretapping, which targeted judges, opposition politicians, members of the ruling party and journalists.
Uribe has denied accusations that he ordered the agency to wiretap his political opponents.
During his presidency, however, Uribe did respond to the wiretap scandal by reforming some of the responsibilities that fell to DAS.
In 2009, he removed wiretapping authority from DAS and gave that responsibility to the National Police.
DAS oversaw a variety of authorities, including immigration and domestic security. Those functions will now be in the hands of the Foreign Ministry and the Interior Ministry, respectively, Santos said.