Federal Reserve in upbeat tone votes to maintain bond buying program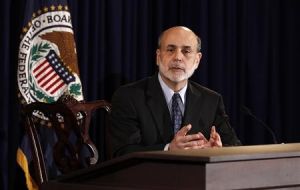 The US Federal Reserve announced Wednesday after a two-day meeting to keep interest rates on hold and maintain its bond buying programs. The decision was entirely as expected by markets and economists.
The Fed gave a moderately upbeat assessment of the US economy, which economists took as a sign that the committee felt no sense of urgency to take more action.
"…Economic growth strengthened somewhat in the third quarter, reflecting in part a reversal of the temporary factors that had weighed on growth earlier in the year. Nonetheless, recent indicators point to continuing weakness in overall labor market conditions, and the unemployment rate remains elevated. Household spending has increased at a somewhat faster pace in recent months. Business investment in equipment and software has continued to expand, but investment in non-residential structures is still weak, and the housing sector remains depressed. Inflation appears to have moderated since earlier in the year as prices of energy and some commodities have declined from their peaks. Longer-term inflation expectations have remained stable".
The committee voted 9-1 in favour of its statement, an improvement from the 7-3 vote recorded in September.
The statement noted a pick-up in spending by consumers, but also alluded to the strains in global financial markets, without explicitly mentioning the Euro zone debt crisis.
"…The Committee continues to expect a moderate pace of economic growth over coming quarters and consequently anticipates that the unemployment rate will decline only gradually toward levels that the Committee judges to be consistent with its dual mandate. Moreover, there are significant downside risks to the economic outlook, including strains in global financial markets".
The Fed has kept its overnight interest rate within a historic low target range of 0%-0.25% since December 2008, and repeated its promise to continue doing so until mid-2013.
The central bank will also continue its "Operation Twist" policy, launched in September, of switching 400bn into longer term government debts. The move was an extension of the Fed's quantitative easing policy of creating money and using it buy debts of the federal government.
"…The Committee decided today to continue its program to extend the average maturity of its holdings of securities as announced in September. The Committee is maintaining its existing policies of reinvesting principal payments from its holdings of agency debt and agency mortgage-backed securities in agency mortgage-backed securities and of rolling over maturing Treasury securities at auction".
Operation Twist is intended to reduce longer-term interest rates, in order to encourage more borrowing and investment. However, the move split the Fed's policy committee, with three members voting against it in September.
"Voting against the action was Charles L. Evans, who supported additional policy accommodation at this time".
There has been speculation that the Fed may be preparing take further steps to stimulate the flagging US economy, in particular to reduce interest rates for mortgage borrowers. However, most economists did not expect any such steps until the Fed's next meeting, in December.