Overstretched Royal Navy resources trigger controversy on UK's defense
Wednesday, November 2nd 2011 - 04:00 UTC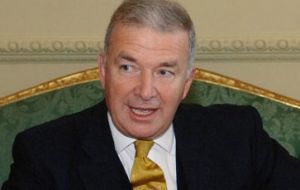 The UK has been without a single warship allocated to defending its shores for a month because of defense cuts and operations in Libya, the Ministry of Defense has confirmed.
A frigate or destroyer is usually allocated to the Fleet Ready Escort (FRE) role, and remains in port or in UK waters to respond to any emergency at home or abroad.
But following the Strategic Defense and Security Review the Navy surface fleet was reduced from 24 to 19 ships - and with 10 allocated to operations off Libya none were available for the FRE role.
Former First Sea Lord, Admiral Lord Alan West, described the situation as "worrying" and "very unsatisfactory".
Speaking to the Portsmouth Evening News, which first broke the story, Lord West said: "If there was a terrorism incident in UK waters this would historically be the ship sent in to deal with it.
"It is a big problem. If we haven't got a ship ready to do this role then it is worrying. It is a very unsatisfactory position to be in.
"What it shows is that the number of frigates and destroyers we have got now is insufficient. We need more ships as a matter of urgency."
But the Ministry of Defense pointed out that FREs were not always on patrol and were often in dock, and that ships close to Britain's shores could have been reallocated at short notice were they needed.
A MoD spokesman said: "Due to the successful deployment of Royal Naval units to the Libya campaign it has been necessary to re-profile the tasks of some ships. UK waters remain well protected as at any one time there are always a number of RN ships conducting security operations".
"Should a ship be required for a counter terrorist operation for example, a Royal Navy ship would be allocated immediately."
But critics will seize upon the admission as proof that the defense review has left the armed forces below strength and unable to fulfill their commitments.
In June, the current First Sea Lord Admiral Sir Mark Stanhope warned that committing to the NATO mission off Libya beyond September could overstretch the Navy's resources.
"If we do it longer than six months we will have to reprioritize forces," he said.
"That is being addressed now. It could be from around home waters. I will not prejudge what that decision will be."