Argentine president calls for an end to anarchy and a return to "real capitalism"
Thursday, November 3rd 2011 - 14:57 UTC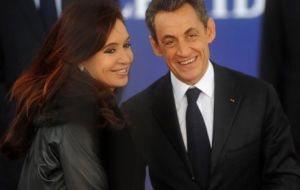 During Thursday's meetings of the Group of 20 in Cannes, Argentine President Cristina Fernández for G20 leaders to put a stop to the current "anarchistic economic capitalism" and regulate the markets, not the countries, to go back to what she referred to as "real capitalism" after three years of world economic crisis.
"What I am putting forward is to move back to real capitalism, because what we are experiencing now is not capitalism. This is a complete anarchistic slant on financial capitalism, where no-one controls anyone" stated the Argentine leader during the business meeting.
The head of State later affirmed that "it's time for the world to change its current situation, even though to be able to change, it is necessary to address certain interests, small but powerful."
"Many times it can be better to face those powerful interests, which in the future will face the fury of society. I tell those, due to the experience Argentines lived through in 2001," underlined the President before businessmen and authorities of the Business-20 in Cannes.
Cristina Fernandez earlier praised the achievements made in Argentina, underlining the increased productivity, particularly placing a focus on technology and science. Later in her speech she also looked upon what changes need to be made within the country, with regard to the urbanization of rural areas.
The Argentine president praised the young professionals who "move to larger cities to study" helping to further develop society in smaller towns.
The meeting took place in the Martínez Hotel in Cannes, where CFK was accompanied by Foreign Minister, Héctor Timerman, Agriculture Minister, Julián Domínguez, Labour Minister, Carlos Tomada and Industry Minister Débora Giorgi as well as the presidential spokesperson, Alfredo Scoccimarro.