Fitch warns Argentina on foreign exchange controls and inflation
Thursday, November 3rd 2011 - 07:55 UTC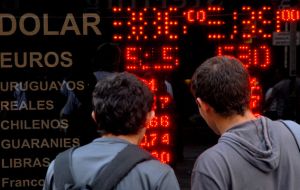 Fitch Ratings agency warned Wednesday that Argentina's new dollar controls and measures aimed at curbing capital flight could narrow Cristina Fernández political options range.Likewise, the agency stated in the communiqué that the "continuity of such unorthodox policies represent nothing but risk."
"Since the re-election of President Cristina Fernández on October 23, the Argentine government has strengthened its repatriation policies of the incomes of exports in the mining, oil and insurance sectors," it continues.
According to the agency, "as the exports competitiveness has declined and the boom of consumption triggered by imports (although the government is trying to stop them), the current accounts' balance is getting worse." And it expects that the country will have its first current account deficit since 2001.
"Although the economy has grown 9.5% in the first semester of the year, the weakness signs have appeared and the external conditions are restricting the economic growth instead of facilitating it," the agency stated.
To end, the agency remarked that Argentina's credit rating could become highly vulnerable to shocking changes in foreign currency exchange policies as well to a high inflation rate.