Lula undergoes cancer treatment; calls Brazilians to support President Rousseff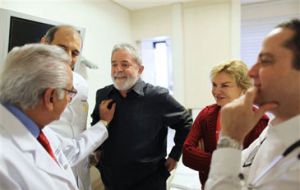 Former Brazilian President Lula da Silva, one of the most popular figures in Brazil vowed in a video posted on YouTube to beat his recently diagnosed throat cancer.
The two-minute personal message was published the same day was Lula da Silva was released from the Syrian-Lebanese Hospital in Sao Paulo, where he underwent his first round of chemotherapy this week.
Doctors surgically inserted a port that allows the transfer of medicine straight to the former president's vein. Lula da Silva then underwent his first chemotherapy session, which went "without incident," according to the hospital. Doctors have said that they found a tumor located in Lula's larynx.
"I believe I will win this battle. This is not the first time and won't be the last battle I will face. With your solidarity, it's going to be much more peaceful, much easier" Lula da Silva said in the video, speaking in a raspy voice. He thanked the Brazilian people for their outpouring of support.
"There is no space for pessimism or to feel sorry. If the day does not go well, with a lot of guts we will make it better tomorrow" he said.
Lula da Silva known for the social programs he implemented at the same time that Brazil's economy soared was Brazil's most popular president in recent history: he left office with a record 87% support.
Holding hands with his wife Lula da Silva called on Brazilians to trust his successor, Dilma Rousseff -- a cancer survivor herself – and help her rule the country.
"The advance of Brazil is inexorable…it's enough to do what must be done, we must trust and support our president…"
The 66 year old leader said he was sure he would recover the full use of his voice and finished telling Brazilians, "until the next open assembly".
The head of the medical team Carlos Katz said he authorized Lula da Silva to practice some light exercises and an "almost" normal life. He is expected back in hospital in three weeks for the second of three rounds of chemotherapy.
According to oncologist Paulo Hoff the Brazilian leader has a cancer of medium aggressiveness with high chances of recovery with no need for surgery since the tumor has not reached the lymph nodes.
Hoff said that the effectiveness of the treatment will be assessed in approximately forty days, following the second session of chemotherapy.
Shortly after the treatment President Rousseff visited Lula da Silva at hospital and described him with an exceptional humor and convinced he will recover.
"He is marvelous; he's with an exceptional high spirit and with his typical good humor. He has an exceptional capacity to overcome challenges. He is a true warrior, he'll come out stronger, happy as always and will continue to contribute to the country he loves so much", said the Brazilian president who underwent cancer treatment at the same hospital.
Lula da Silva served two terms as Brazil's president and left office last January with a record 87% approval rating. He handpicked Ms Rousseff to succeed him.