Obama tells Sarkozy: "we all need to learn lessons from CFK re-election"
Thursday, November 3rd 2011 - 23:51 UTC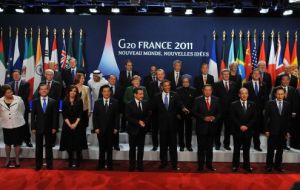 President Barack Obama recommended his French counterpart, Nicolas Sarkozy to follow the example set by Argentine President Cristina Fernández, who was re-elected in a landslide win just ten days ago.
Obama's comments were made during an informal chat among world leaders prior to the lunch on Thursday inaugurating the G20 summit in Cannes. It forebodes a positive climate for Friday's bilateral meeting between the leaders of the US and Argentina.
The three leaders attended the lunch inaugurating the G20 summit in Cannes, where the Euro zone debt crisis has risen as the hot topic for discussion. Before the lunch began, the world leaders were able to greet one another informally.
Obama, accompanied by Sarkozy, went to greet Cristina Fernández and congratulate her triumph last month, when she was re-elected with a majority of votes.
"Well Nicolas, we all need to learn lessons" from this triumph, joked the US president.
Obama will be seeking re-election in the 2012 elections; meanwhile, Sarkozy also aspires to gain a second mandate in the presidential elections in France next May. Opinion polls do not favour him.
According to White House sources Obama shared the lunch table with Cristina Fernandez, Turkish PM Tayip Erdogan and Italian PM Silvio Berlusconi.
Before sitting to lunch Obama welcomed President Hu from China greeting him with a warm "Ni hao" (Hello in mandarin).
The US and Argentine presidents are to hold a bilateral meeting Friday. The meeting was requested by Obama which could help to improve bilateral relations deteriorated following several incidents such as the fact the US president excluded Argentina from its visit to Latin America earlier this year when he visited neighbouring Brazil and Chile.
Later in a bizarre incident Argentina, with Foreign Affairs minister Hector Timerman leading, seized a US Air Force aircraft and its cargo while in Ezeiza airport alleging contraband. The aircraft was on a cooperation program.
The US is voting against granting loans to Argentina in the World Bank and the Inter American Development Bank because the Cristina Kirchner administration has refused to pay compensation to US corporations that were taken over, and in spite of a multilateral tribunal ruling if favour of the plaintiffs.
Finally Cristina Fernandez is expected to press on the Obama administration greater support in convincing the UK to resume sovereignty negotiations regarding the Falklands and other South Atlantic Islands.