Falkland Islands voters overwhelmingly reject single constituency proposal
Friday, November 4th 2011 - 16:09 UTC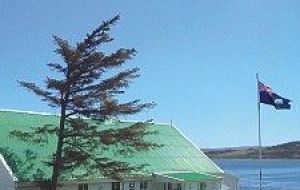 Falkland Islands voters rejected the proposal of a single constituency, to eliminate the current two-system of Camp and the city Stanley, which was put to a referendum on Thursday November 3.
As expected voters in the Camp were almost unanimous in rejecting the concept of a single constituency: 84% (152 voters) ballots offered a resounding no vote with only 16% (29 voters) saying yes.
In Stanley the constituency was divided almost equally with 50.2% (255 voters) saying yes and 49.8% (253) saying no.
The strength of feeling on the issue in Camp was reflected in the turnout to vote with 70% making the effort while only 39% of Stanley voters made their mark at the polls.
For a change to be made to Legislative Assembly representation from the current two constituency system to a single constituency, two thirds of Camp and two thirds of Stanley would have had to vote yes. The result means the current system will not be changed as a result of the referendum.
Currently the Stanley constituency has five representatives and the Camp three, however, because this is disproportional in terms of representation the idea for a referendum on the question was decided upon by the Legislative Assembly.
MLA Jan Cheek commented this morning: "The outcome of the referendum, while disappointing for some, was not unexpected.
"We will now look at some of the suggestions for achieving equitable representation for all, including a number of the ideas aired in the lead up to the referendum. If new proposals emerge they will of course be put out for proper public consultation".
Historically the Falklands had a two constituency system (Camp and Stanley) with equal representation in the Legislative, four and four. However a few years ago as the economy of the Islands changed drastically with fisheries, tourism and oil prospects many people moved for jobs in Stanley and there was a significant demographic misbalance.
Furthermore the traditional sheep farming at the time was going through one of its worst moments internationally. (PN)