Obama asked to declassify documents on children's disappearance in Argentina
Friday, November 4th 2011 - 00:11 UTC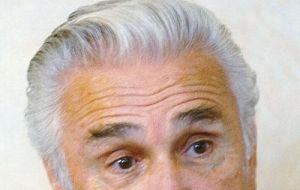 US Democratic congressman Maurice Hinchey sent a letter to President Obama requesting the declassification of several US intelligence documents, held by the Pentagon, the FBI and the CIA, that contain information related to human rights abuses, specifically the disappearance of children during Argentina's last military regime, which ruled in the country from 1976 to 1983.
According to Hinchey's official website the release of documents would help reveal the true identity of hundreds of Argentine children who were born in captivity and taken away from their biological mothers.
"Thousands of families have waited more than 30 years to learn the fates of their loved ones, and we have an opportunity to make a contribution to truth and justice by helping to bring this troubling chapter in Argentina's history to a close," Hinchey wrote.
"I ask that you follow through on your administration's commitment to openness by reviewing these files for declassification. The release of these documents would once again demonstrate our nation's dedication to human rights and open government."
In May, the Republican majority of the US House of Representatives rejected a Hinchey-authored amendment, which would have directed the US Director of National Intelligence to issue a report to Congress on Argentine human rights violations during this period.
Previous versions of the amendment passed with strong bipartisan support in the House, but were ultimately not made law due to objections levied against the underlying legislation.
Hinchey's measure was supported by the Argentine government, the National Security Archive of George Washington University and various human rights organizations, an article on his website stated.
During the 1970s and 1980s, over 30,000 people "disappeared" at the hands of the military junta in Argentina, including hundreds of women who were abducted by Argentine security forces and had children who were born into captivity. Those children were then given to members of the Argentine security forces while the mothers are believed to have been killed.