Obama praises CFK and Argentina as "great friends of the US"
Saturday, November 5th 2011 - 07:51 UTC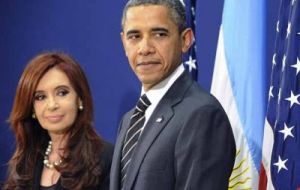 US President Barack Obama defined Cristina Fernández and Argentina "a great friend" of the United States in a meeting between both Head of States. The bilateral meeting Friday lasted around thirty minutes and took place in the Carlton Hotel in Cannes in the framework of the G20 summit.
CFK and Obama together highlighted the importance of the "ties that unite both countries" and promised to keep working on the co-operation between the two nations.
Obama began his speech to the press by stating that it was "wonderful to be here today with a great friend of the United States, such as President Cristina Fernández de Kirchner."
In addition, the US president thanked the Argentine head of state for the "passion and dedication applied to conversations over global issues," while also publically declaring his congratulations to the Argentine president over her triumph in the October 23 elections.
The pair made their statements formally to the press prior to their meeting which took place after the close of the G20 leaders summit in Cannes.
The Argentine head of state positively remarked on business relations between the two countries, and stated that "over five hundred companies have settled in Argentina and 60% of which, are leading companies in the United States."
CFK also underlined that bilateral relations between Argentina and the US, were "extremely important to us as well," further stating that the "United States provides a service to Argentina."
Likewise, the Argentine president mentioned how "Obama and myself are big fans of science and technology" commenting positively on her recent visit from NASA in Argentina, at which the US Ambassador to Argentina, Vilma Martínez was present.
During the bilateral meeting, four members of government from each country were present, following the "one plus four" formality applied to such meetings. From the Argentine government, Foreign Minister Héctor Timerman, Finance Secretary Hernán Lorenzino; the Treasury's attorney, Angeline Abbona, and the presidential spokesperson, Alfredo Scoccimarro was present.
From the United States of America, the head of the Latin American office, Dan Restrepo, the secretary of State for Economic Issues, Bob Hormats, Security advisor, Tom Donilonm and the Sub secretary of the Treasury for International Issues, Lael Branhard attended.
The meeting was requested by Washington, with the intention of bettering the relationship between both countries. On Thursday Obama congratulated the the Argentine president on her re-election and made a recommendation to Nicholas Sarkozy that, "we all need to learn lessons from her"