Re-election for Daniel Ortega in Nicaragua, continent's poorest nation
Tuesday, November 8th 2011 - 08:25 UTC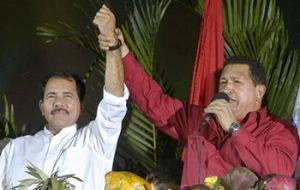 Nicaragua President Daniel Ortega, a former Marxist guerrilla leader, was headed for a landslide victory in Sunday's presidential election. Preliminary results showed Ortega, who has cemented his hold on power with social spending for the poor, had 63.7% support based on a count of votes from 18% of polling stations.
His closest competitor, radio personality and businessman Fabio Gadea, was way off the pace, back on 29%, but his supporters have been claiming vote rigging and overall fraud.
A win would give Ortega his first back-to-back terms in office since he helped the Sandinista rebel army to overthrow the Somoza family's dictatorship in a 1979 revolution.
Yet his lead was bigger than the win projected by opinion polls and Gadea supporters accused Ortega's Sandinista party of manipulating the electoral process, stuffing ballot boxes and making it hard for conservatives to cast their vote.
There were also outbreaks of violence during voting, with nine people injured in a clash in northern Nicaragua.
The mood was festive on the streets of Managua, where hundreds went out to celebrate an Ortega victory.
Long-time U.S. adversary Ortega has overseen a period of economic progress in his five years in power, backed by funds from his populist ally in Venezuela, President Hugo Chavez.
Having survived a US-backed Contra rebellion as president in the later half of the 1980s, Ortega was voted out in 1990.
Since his return, Ortega has solidified his hold on Central America's poorest country with programs to improve health and education, micro-credits and gifts of livestock.
Backed by Venezuela, Ortega has reduced poverty in this largely agrarian nation and is credited with allowing the private sector to operate freely.
Ortega's task has been made easier because his two main conservative opponents failed to join forces against him. But he was only able to run for re-election thanks to a 2009 ruling by the Supreme Court -- which his Sandinista party controls -- that did away with a ban on consecutive terms.