Bolivia and Washington restore full diplomatic relations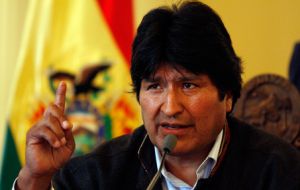 Bolivia and the United States restored full diplomatic ties Monday for the first time since 2008. Three years ago the Andean nation's government expelled the US ambassador and the Drug Enforcement Administration (DEA). The US expelled the Bolivian ambassador in return.
Bolivian President Evo Morales, a coca farmer, accused the US of inciting his political enemies. He has been critical of Washington's Latin American policies.
The new diplomatic agreement includes the two nations cooperating in the war on drugs, but did not address the issue of US DEA agents returning to Bolivia. There was no specific date for the ambassadors to return to their respective diplomatic posts.
Bolivia is the world's third largest cocaine producer behind only Peru and Colombia.
"We look forward to the early return of ambassadors to both Washington and La Paz and to a more productive, collaborative relationship," the two governments said in a statement issued by the US Department of State late Monday.
The accord signed this week "establishes a framework by which the two governments will pursue relations on the basis of mutual respect and shared responsibility," according to the statement. The accord aims to strengthen bilateral relations, support cooperative actions against narcotics production and trafficking and strengthen commercial relationships.