Brazilean court allows construction of controversial gigantic dam to continue
Thursday, November 10th 2011 - 07:57 UTC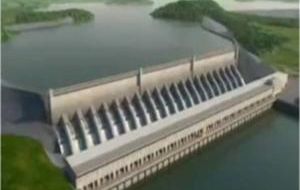 A Brazilian federal court on Wednesday rejected an appeal for suspending construction of the controversial 11 billion dollars Belo Monte hydroelectric dam in the heart of the Amazon until after indigenous people has been consulted.
The court, based in Brasilia, upheld a legislative decree that authorized construction, which is opposed by environmentalists and Amazon Indian tribes who say the dam will cause massive destruction of fauna and flora in the area.
Maria do Carmo Cardoso, a court judge, held that while the indigenous communities are entitled to being consulted, the law does not say that this must be done before approval of the work.
"The consultations are not binding, they are merely informative" she added in remarks carried by the state Brazil agency.
Authorities of the western Para state, who back the call for suspending the work until after the indigenous communities have been consulted, announced that the court ruling would be appealed in the federal Supreme Court.
Last month more than 400 activists occupied the site of what would be the third biggest dam in the world -- after China's Three Gorges dam and the Itaipu dam on the border of Brazil and Paraguay.
Construction of the Belo Monte dam -- which would produce more than 11,000 megawatts or about 11% of Brazil's current installed capacity -- has been the subject of legal wrangling for decades.
The project also has drawn international criticism, including from Oscar-winning movie director James Cameron of "Avatar" fame, who said rainforest indigenous tribes could turn to violence to block dam construction.
But President Dilma Rousseff's government has insisted the project should be allowed to go ahead, making it the centrepiece of government efforts to boost energy production in the rapidly growing economy.
The project is expected to employ 20,000 people directly in construction, flood an area of 500 square kilometres along the Xingu river and displace 16,000 persons.
The government had pledged to minimize the environmental and social impact of the dam and asserted that no traditional indigenous land was to be affected.