Close advisor of CFK denies she wants to remain in power beyond 2015
Thursday, November 10th 2011 - 08:11 UTC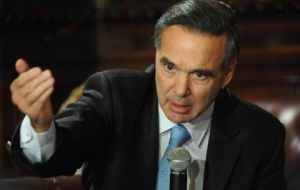 A close Senator and advisor to President Cristina Fernandez denied on Wednesday the Argentine leader is interested in staying in power beyond 2015 and said a constitutional amendment "is not viable".
"The President said it on the very same day she was re-elected: everything has a time and a limit. She has the opportunity of leaving an important legacy of changes. I don't think an amendment would make it through Congress" said Senator Miguel Angel Pichetto, head of the Victory Front's caucus in the Senate.
Pichetto then explained that "there's always someone who wants to be holier than the Pope and wants to move forward with a reform, but I just don't see it happening."
To Pichetto, Cristina Fernandez "has made great efforts. She has a very modern view of politics. She's a stateswoman".
That's why she knows "the importance of term limits and temporality."
He also questioned the rumours saying that Argentina could embrace a parliamentary system through a constitutional amendment. "Argentina has a strong, presidential culture," he stated.
"Our country needs to strengthen its democratic system within a presidential regime," he explained, assuring that a parliamentary system "would weaken institutions."
"There are some different opinions out there that I respect but I don't agree with," he admitted, after earlier in the day Justice Eugenio Zaffaroni said he would support a constitutional amendment if it could lead to a parliamentary system.
CFK was re-elected last 23 October for another four year mandate with a landslide 54% of ballots. Under current Argentine law she can only stand for re-election running once.