Euro crisis: IMF chief warns of a "lost decade"; China calls for strong political will
Thursday, November 10th 2011 - 08:17 UTC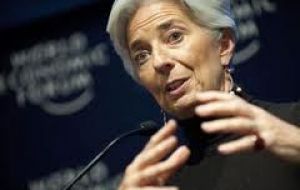 The head of the IMF warned on Wednesday that Europe's debt crisis risked plunging the global economy into a "lost decade" and said it was up to rich nations to shoulder the burden of restoring growth and confidence.
On a two-day visit to China Lagarde also alerted that the global economy risked plunging into "uncertainty and financial instability".
Christine Lagarde told a financial forum in Beijing that European plans to bolster a rescue package for Greece were a "step in the right direction," but that the outlook for the world economy remained dangerous and uncertain.
"There are clearly clouds on the horizon. Clouds on the horizon particularly in the advanced economies and particularly so in the European Union and the United States," Lagarde said.
"Our sense is that if we do not act boldly and if we do not act together, the economy around the world runs the risk of downward spiral of uncertainty, financial instability and potential collapse of global demand... we could run the risk of what some commentators are already calling the lost decade."
The "lost decade" reference carries echoes of Japan's experience of persistent deflation, mounting debts and economic impotence through the 1990s and beyond after its real estate bubble burst -- an outcome many analysts fear could be repeated given the debt and property origins of Europe's problems.
Lagarde said she was hopeful that the technical details of a European Union plan to boost the European Financial Stability Fund (EFSF) to around 1 trillion Euros from its present 440 billion Euros would be ready by December.
European policymakers are hopeful that big emerging economies, led by China, will invest some of their vast foreign exchange reserves to help end a debt crisis that has engulfed Greece threatens bigger economies such as Italy.
But there is scepticism in China, where public opinion is firmly against bailing out countries that still enjoy far higher average incomes than Chinese.
Chinese policy makers also worry that European plans are "not complete and not firm," according to a commentary on China's official Xinhua news agency. It criticized a lack of political will, politicians' concerns over their own re-election and a lack of coordination between EU members.
"Like a patient, if several organs are in trouble, taking drugs or surgeries will produce toxic side effects and will largely reduce the desired effectiveness. That's exactly what's happening in Italy and Greece," the commentary said.