The Falkland Islands in search for a voice
Thursday, November 10th 2011 - 06:44 UTC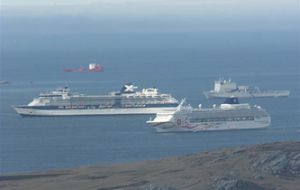 By John Fowler - In the first of a planned series of extended articles written exclusively for the Penguin News web site, Deputy Editor John Fowler examines the causes of the frustration felt by many Falkland Islanders in the face of the recent plethora of statements issuing from the Argentine propaganda machine
ON one of my strangest assignments for Penguin News, I once flew all around the West Falklands in the wake of Princess Anne, who was then making her first visit to the Islands. Having been warned by someone in her entourage that Her Royal Highness was not enamoured of journalists with cameras, I did my best to be discreet and unobtrusive. Maybe I did this too well, because it soon became obvious that as far as she was concerned I simply did not exist. Even when in the small 1982 War museum at Port Howard we found our selves briefly alone in a fairly confined space, there was no arch of an eyebrow or flicker of expression of any kind to indicate any royal awareness of my presence.
Being ignored by all sorts of women has not been an uncommon experience in my life, so being ignored by a princess might not have been so damaging to my own self-esteem, were it not for the fact that during a long day, involving a good deal of airborne island-hopping, farm managers, farmers' wives, shepherds, contract shearers, wool girls, children and even a couple of horses felt the full warmth of the royal smile. The Princess spoke animatedly and with every evidence of interest to almost everyone she met and I ended up full of admiration for her performance and her stamina. Equally, however, I began to fear that somehow or other extended exposure to the royal presence had caused me to dematerialise. Acquaintances and friends alike were implored to confirm my continued existence by pinching me, until I finally began to feel more like myself again.
The sequel to this story is that when some years later, during another royal visit, someone offered to introduce me to Prince Charles, I declined the offer, not just out of pique at the Royal family, but also out of an obscure and unreasonable fear that he might share his sister's strange power. The point, however, is that no one likes being totally ignored, especially when circumstances prevent one from doing anything about it. If this was true for me in 1996, when faced with Princess Anne, it is also true for the people of the Falkland Islands in the face of the Argentine Government's refusal to admit their existence, much less that of their democratically elected government.
I think it was the last-but-one Argentine Foreign Minister, who said that there was no more point in talking to the residents of the Falkland Islands than to the residents of Watford, or some other English town, as we were all an artificially imported population. This theme has been reiterated recently by the present incumbent of the Foreign Ministry in Buenos Aires, Mr Hector Timerman and embellished fantastically by Argentine Ambassador at the United Nations, Mr Jorge Arguello. Almost every week one member of this dynamic duo pops up in some part of the globe trotting out a new version. I don't know what the Mandarin is for Rhett Butler's famous line from Gone With the Wind, "Frankly my dear, I don't give a damn" but I bet it was heard a lot in Beijing recently where Timerman, who was presiding over an Argentine trade delegation could not help but raise the sovereignty issue.
I was about to write that Arguello is the clear leader if there is a competition between him and Timerman to come up with the most outrageous statements about the Falklands, for example the announcement that we are all held prisoner here by the military. Then I recalled that what they are commenting about are 'Las Islas Malvinas.' These islands, while found in the same place on the map as the Falkland Islands (though of course coloured differently on Argentina's new map for school children) are in fact completely different in some important aspects and this confuses the sovereignty issue not a little.
The Falkland Islands, with its capital Stanley is an actual country inhabited by a predominantly English-speaking population including many families who have been here for over 160 years. A former British colony, the Falkland Islands has its own laws and democratically elected government which is largely autonomous and financially independent, except for the cost of its defence, which would not be necessary were it not for the threat of invasion by Argentina.
For most Argentines, except for the few who live here quite happily, the 'Islas Malvinas' and its capital Puerto Argentino are largely mythological. They are not important as a place in which to live – an Argentine ex-combatant from 1982 recently told me that he doubted whether he could find 2,000 of his compatriots who would want to live here - but they are important as a symbol of an historic insult when, supposedly, in 1833 a British warship overthrew an Argentine administration and expelled its people.
Whether this insult to the barely emergent nation that is now Argentina happened or not matters little. Historically we believe that the Argentine sovereignty claim is unfounded, while from reception class generations of Argentine children have been indoctrinated into believing in its rightness. For them, "the Rape of the Malvinas" is like King Alfred and the Cakes for the English, or Robert the Bruce and the Spider for the Scots; these are powerful myths sunk deep into the national consciousness, but with hardly an ounce of historical fact behind them.
The fact that the majority of Falkland Islanders have much in common with the majority of Argentines in that they are descended from immigrants, who left their native countries freely in search of greater opportunities does not sit well with Mr Arguello and other spinners of the Malvinas myth, nor does the fact that this community, far from being enslaved by Britain, is progressing year by year in the direction of the "secure independence" named as a goal by the Falkland Islands Government as far back as 1995 in a document entitled "Policy Recommendations for Any Future British Government."
The same document listed the following as the last of six policy recommendations: "Cooperation between Her Majesty's Government and the Falkland Islands Government on the influence and education of public opinion in Argentina is to be encouraged. The objective is to reach the point where the "Malvinas" issue is no longer a vote winner or even has special popular appeal."
The problem for the Falkland Islands is that we have had no voice in any of this, because the only other area besides defence in which we are dependent on the British Government is that of foreign relations. This effectively and almost exclusively means relations with Argentina. If its very existence is ignored by the Argentine Government, it is difficult for the Falkland Islands Government to be able to respond to the lies told about us by them, except through the medium of the British Foreign Office. Although there are no doubt all kinds of diplomatic measures being taken by the British Government to provide an antidote to Argentine misinformation, to the average Falkland Islander, who has no access to whatever may be going on behind the scenes, it can only seem that we are losing the global PR battle and that the time for this recommendation to be put into effect is well overdue. (www.penguin-news.com)