Uruguay best place to live in Latin America, says Legatum Institute
Thursday, November 10th 2011 - 06:17 UTC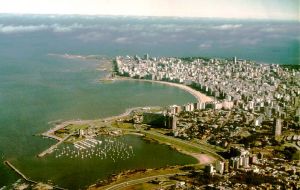 Uruguay is the best place to live in Latin America according to the Legatum Institute fourth year index on quality of life conditions which ranks 110 countries world wide representing 90% of world population and 97% of the global economy.
According to the latest Prosperty index, Uruguay ranks 29, followed by Chile, 31, Argentina 39 and Brazil, 52. In the whole of the Americas, Uruguay is the only country that figures in the highest ranking with Canada (6) and the US (10).
The rest of South America is ranked medium while Ecuador and Bolivia figure at the lowest level.
The Legatum Institute describes itself as an independent non-partisan public policy group based in London, with research, publications, and programs that advance ideas and policies in support of free and prosperous societies around the world.
The top ten of the Prosperity Index include: Norway, Denmark, Australia, New Zealand, Sweden, Canada, Finland, Switzerland, Holland and United States. UK figures in position 13 and Ireland, 12.
The Legatum Prosperity Index is the world's only global assessment of wealth and wellbeing. Now in its fourth year, the Index analyses 110 nations and starts with a holistic definition of prosperity that includes both material wealth and quality of life, and then employs a rigorous set of estimation methods to determine which factors matter most to nations' overall prosperity.
Most people would intuitively agree that "prosperity" is not just money but also quality of life. The Prosperity Index is the first global index that provides an empirical basis for this belief. It finds that successful countries enjoy a "virtuous cycle" of economic liberty and growth, political freedom and good governance, and enterprising and happy citizens, which mutually reinforce each other on the path to prosperity.
Rather than replicating other measurements that rank countries by their actual levels of wealth, life satisfaction, or development, the Prosperity Index produces rankings based on the foundations of prosperity. These are the factors that help drive economic growth or produce happy citizens in a given country.