Aerolineas Argentinas resumes flights with Air Force taking control of operations
Monday, November 14th 2011 - 20:36 UTC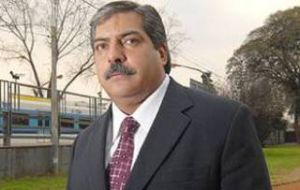 International flights by state-run carrier Aerolineas Argentinas resumed Monday after a weekend disruption over a labour dispute with comptrollers which the government of President Cristina Fernandez resolved by ordering the Air Force to take control of air operations.
The move is not unprecedented, as the Air Force controlled air traffic operations up to 2007.
Flights to destinations like Rome, Miami, and Auckland/Sydney that had been cancelled Sunday were re-scheduled for Monday, reported an airline spokesperson.
The Sunday protest was called because Aerolineas Argentinas planes were not meeting safety requirements, and the airline had not been investing enough in plane maintenance, said Ricardo Cirielli, the head of the technician's union.
Cirielli said his technicians were being pressured to sign off on airplanes that did not meet all security requirements.
Transportation Secretary Juan Pablo Schiavi said Monday that the disruption resulted in "a loss of 20 million dollars" for the company.
Aerolineas Argentinas has been in state hands since 2008, when it was expropriated from a Spanish group. At the time the airline was nearly 900 million dollars in debt.
The company lost 180 million dollars this year in flight cancellations following the eruption of a volcano in neighbouring Chile in June, the Pagina/12 daily reported on Sunday. Ash from the volcano disrupted flights across much of South America.
The airline has also seen fuel prices increase by 140 million dollars compared to the previous year, the newspaper said.
Argentine Labour Minister Carlos Tomada informed that the government reported the Technical Aeronautical Staff Association (APTA) over the strike conducted since last Saturday that paralyzed all Aerolíneas Argentinas international flights.
Tomada said that the Ministry "wants labour rules and norms to be respected but the union never did", in a clear reference to an order of mandatory conciliation issued by the Labour Ministry last Friday that the union chose to ignore
Over the weekend Planning Minister Julio de Vido had accused APTA chief Cirielli for flight delays and cancellations.
"These flights have been suspended due to a under covered and illegal strike conducted by Mr. Cirielli through the Aeronautical Technical Staff Association".
However Cirielli recalled that since the administration of President Cristina Fernández renationalized the airline, the Argentine state has spent about 2.1 billion dollars to maintain it. He also recalled that the firm has not been publishing financial reports and that its chairman Mariano Recalde should explain how the funds are being handled.
Flight delays and cancellations are the "exclusive consequence of technical problems and lack of personnel. Had they run the company in a better way over the past three years, we would not be having theses troubles today," he said.
He also said that APTA is asking the state to invest about 70 million dollars to industrialize and repair engines and aviation equipment, tasks that, he added, today are currently are being carried out abroad.
He said that in Iguazú, in Misiones province, controllers come down from the control tower when there are strong winds out of fear that it may collapse and in El Calafate, in Santa Cruz — the home province of former president Néstor Kirchner — the control tower has no toilet and controllers need to resort to a bucket for their physiological needs.
Likewise the head of the Airline Pilots Association union (APLA) Jorge Pérez Tamayo warned that Aerolíneas "may not be viable" if there are no management changes, a criticism with which Cirielli agreed.
The government suggested that there could be links between the criticism from APLA and APTA, but Cirielli said that although the two unions have not talked to each other for a long time, "this does not mean that we may not agree — even without communicating — on some issues."
Pérez Tamayo rebuked Transport Secretary Juan Pablo Schiavi, who last week said that pilots fly only once a month and earn between 8.000 and 10.000 dollars.
"If that is true, it is evident that there are too many pilots" he said. "But why then with the green light of Mr. Recalde and Schiavi they incorporated 235 pilots this year? If they incorporate 235 pilots and there are too many pilots, it means that they are managing the company very badly," Pérez Tamayo added.
"If Recalde thinks that they were boycotting him, he should have resorted to courts".
Although flight disruptions only help to founder a carrier, Argentine political analysts admit that the re-nationalized flag carrier has been to inexperienced members of La Campora, the pro-Kirchner youth political group which is led by none else but Cristina Fernandez de Kirchner's son Maximo, who apparently the mother wants to prepare him for politics.