Falklands turns out for Remembrance Day and to honour Islanders killed in active service
Tuesday, November 15th 2011 - 20:40 UTC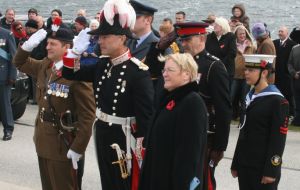 Last Sunday was Remembrance Sunday, the nearest Sunday to Armistice Day, the anniversary of the ending of the First World War, which came at the 11th hour of the 11th day of the 11th month in 1918.
Together with people in towns and villages throughout the English-speaking world and beyond, who were gathering at their own memorials to the dead of the two world wars, the people of the Falklands and representatives of the British forces on the Islands joined together at the Cross of Sacrifice in Stanley for an act of remembrance which has now grown over the years to encompass all those who have died on our behalf in the many other conflicts in which British forces have been involved since 1945.
A detachment of soldiers, sailors and airmen currently serving in the Falklands participated in the parade, along with a detachment of the Falkland Islands Defence Force, Local uniformed youth groups also participated along with standard bearers from the British Legion.
During the ecumenical open air service in Stanley conducted by representatives of the Anglican, Catholic and non-conformist churches, the list of Falkland Islanders killed in active service in both world wars was read by MLA Sharon Halford. Wreaths of poppies were laid by His Excellency the Governor, Mr Nigel Haywood, the Commander British Forces South Atlantic Islands, Brigadier Bill Aldridge and others.
Poppies have come to symbolise the day universally as they bloomed in the fields of Flanders in Europe, where many of the fiercest battles of the war were fought. The red petals represent the blood that has been shed; the yellow and black centre signifies the mud and desolation of the battlefield; the green of the stem depicts the landscape where people fought and died; and the stem itself represents the courage of those soldiers.
By John Fowler – Penguin News - Stanley