Pod of 65 pilot whales stranded in New Zealand; high tide could save 34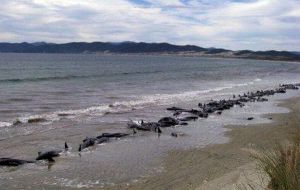 Half of a pod of sixty-five pilot whales stranded on the northern tip of New Zealand's southern island have died and the surviving 34 are stuck in shallow water, between two and three kilometres offshore.

Department of Conservation Golden Bay area manager John Mason said the whales were in too remote a location, and too far from shore, for any rescue attempt to be made.

"It's not the sort of location where we try to rescue them. It's too remote and too dangerous for the rescuers – they're likely to need rescuing themselves."

The whales would be left alone "in the hope that they get themselves off" in the next tides, he said. Pilot whales had successfully re-floated themselves in the past, but the tides were reducing and this counted against their chances, Mason said.

The first stranded whales were spotted Monday evening by commercial tour operator Chris Pomeroy. Two DOC staff were sent to the scene, near the gannet colony past the lighthouse, and found 21 dead whales and one alive but in poor condition, which was euthanized with a rifle.

At low tide Tuesday morning, DOC returned to the scene and found the total had grown to 65, with 31 dead.

Mason said the whales, which measure up to five metres, were stranded on the tidal flats two to three kilometres offshore.

The stranding season is from November to March. They swim into the relatively shallow water during high tide, but the tide recedes very quickly and they become stuck on the sand, Mr Mason said.

"This is quite early in the season, but it's not unusual."

The whales would be left where they were, he said. DOC would take tissue samples. It was also possible that scientists would want stomach content samples.

"They're very common whales. There're lots of pilot whales out there, and this isn't an unusual occurrence at all". It was only the location that ruled out a rescue attempt, he said.