Germany and France clash over a greater role for the European Central bank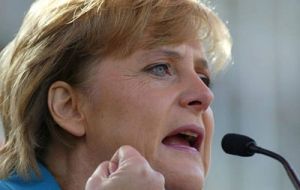 German Chancellor Angela Merkel reiterated Thursday her opposition to a greater role for the European Central Bank in helping to solve the Euro zone debt crisis, saying political action was required.
"I am convinced that only political solutions can resolve the situation," Merkel told an industry event in Berlin.
"If politicians think the ECB can solve the Euro crisis, then they are mistaken," she said, adding that even if the ECB assumed a role as a lender of last resort, it would not solve the crisis.
Merkel also said it required a big dose of political sensitivity to ease tensions between Euro zone members and states that are part of the EU but are not part of the currency union
France and Germany, Europe's two central powers, clashed on Wednesday over whether the European Central Bank should intervene more forcefully to halt the Euro zone's accelerating debt crisis after modest bond purchases failed to calm markets.
Facing rising borrowing costs as its 'AAA' credit rating comes under threat, France urged stronger ECB action, adding to mounting global pressure spelled out by US President Barack Obama.
Bond market turmoil is spreading across Europe. Italian 10-year bond yields have risen above 7%, unaffordable in the long term. Yields on bonds issued by France, the Netherlands and Austria -- which along with Germany form the core of the Euro zone -- have also climbed.
"The ECB role is to ensure the stability of the Euro, but also the financial stability of Europe. We trust that the ECB will take the necessary measures to ensure financial stability in Europe" French government spokeswoman Valerie Pecresse said after a cabinet meeting in Paris.
French Finance Minister Francois Baroin repeated Paris's view that the Euro zone's EFSF bailout fund should have a banking license, something Berlin opposes. Such a move would allow the fund to borrow from the ECB, giving it extra firepower to fight the spreading crisis.
"The position of France ... is that the way to prevent contagion is for the EFSF to have a banking license," Baroin said on the sidelines of an awards ceremony.
ECB policymakers continue to reject international calls to intervene decisively as Europe's lender of last resort, stressing that it is up to governments to resolve the debt crisis through austerity measures and reforms.