Moody downgrades ratings of ten German public-sector banks
Thursday, November 17th 2011 - 19:53 UTC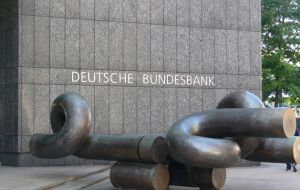 Moody's ratings agency decided on Thursday to surprisingly downgrade the rating of ten German public-sector banks. This is the first time Europe's largest economy in the region, which keeps the Euro zone afloat, is hit.
The rating actions reflect Moody's assumption that there is now a lower likelihood that these banks would receive external support, if required.
The reason behind Moody's reduced support assumptions are "that future government support for German public-sector banks has become less certain, partly owing to the new bank resolution regime that enables the government to impose losses on creditors outside of liquidation and the restrictions on the provision of support, due to strict conditions set by the European Commission.
Moody's downgraded by one notch the rating for one bank, DekaBank Deutsche Girozentrale (DekaBank, to Aa3 from Aa2) and by two notches the ratings for three banks, Landesbank Hessen-Thueringen GZ (Helaba, to A1 from Aa2), Landesbank Saar (SaarLB, to A3 from A1) and HSH Nordbank AG (HSH, to Baa2 from A3).
It also downgraded by three notches the ratings for six banks, Bayerische Landesbank (BayernLB, to Baa1 from A1), Deutsche Hypothekenbank AG (Deutsche Hypo, to Baa1 from A1), Landesbank Baden-Wuerttemberg (LBBW, to A2 from Aa2), Norddeutsche Landesbank GZ (NORD/LB, to A2 from Aa2), Norddeutsche Landesbank Luxembourg S.A. (NLBL, to A3 from Aa3) and Bremer Landesbank Kreditanstalt Oldenburg GZ (BremerLB, to A2 from Aa2).
The ratings agency also announced that it had extended the review of the ratings of one bank, WestLB AG (WestLB, at the A3 level) because its direction was uncertain and confirmed the ratings of one bank, Landesbank Berlin AG (LBB, at the A1 level).