Moody's downgrades Brazilian meat corporation Marfrig from stable to negative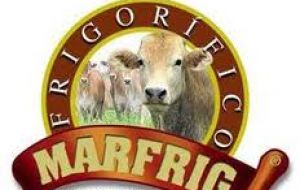 Credit ratings agency Moody's changed its outlook for Brazilian meat processor Marfrig from stable to negative, citing what it feels is a deterioration in Marfrig's credit viability due to strong competition in the Brazilian protein sector in recent months, higher commodity prices, a global economic slowdown and currency volatility.

Marfrig is a leading world corporation in meats trade.

Moody's, which has a long-term rating of B1 for Marfrig, cited the increasing interconnectedness of global demand, exchange rate shifts and rising commodity prices for its negative turn.

About 1.625 billion dollars in Marfrig debt could be affected by the decision.

While Moody's expects industry fundamentals to improve in 2012, the agency thinks there's reasonable risk that these common factors, along with challenges for Marfrig integrating recent major acquisitions, could slow its recovery, analyst Marianna Waltz said in the release.