Uruguay is Mexico's strategic partner in Mercosur says President Calderon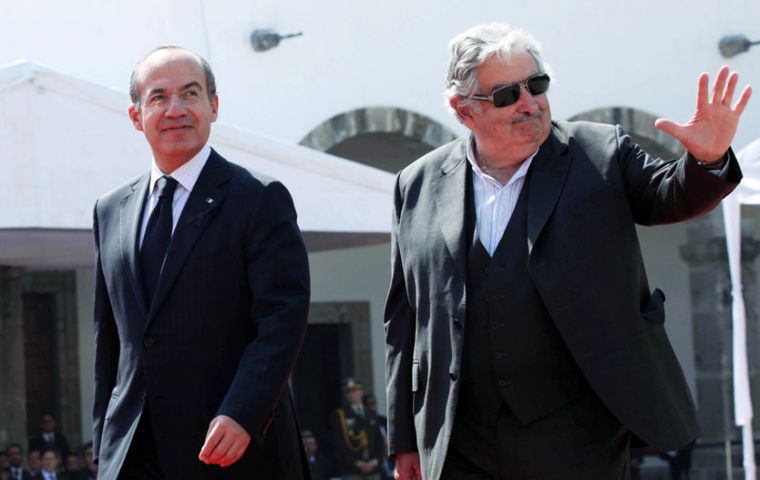 The Mexican president underlined the strategic importance of Uruguay since it is the only Mercosur member that has a free trade agreement with Mexico, thus making it the 'strategic partner' of Mexico in Mercosur.
"As our strategic partner in Mercosur we must strengthen and expand our association with Uruguay, the only member of the block with which Mexico has a free trade agreement", said Felipe Calderon during his meeting Wednesday with his visiting peer from Uruguay Jose Mujica.
Calderon said Mexico supports the significance of dialogue and joint efforts among Latin American nations to achieve "a shared development which is essential given the complexity of the global environment".
The two presidents praised the 21 September 'strategic' agreement between the two countries which "will enable us to advance further than economic cooperation and give us the chance to enjoy education, technology and cultural exchanges".
The first meeting of the Strategic Association Council is scheduled for next March.
President Mujica underlined the significance of the free trade agreement with Mexico signed in 2003 which has since seen bilateral trade treble from 136 million dollars to 441 million in 2010, but with several years with even higher numbers.
"We must further advance in the liberalization of trade and greater inclusion of products; there are still great business opportunities for the private sector in livestock, dairy produce, animal feed, textiles and the auto industry".
To that effect the State of Guadalajara Agriculture Department signed a technical and cooperation agreement with Uruguay's Meat Board, Inac.
"Relations between Uruguay and Mexico are intense and expanding, we are moved by the purpose of achieving shared and common goals in spite of the distance", said Calderón who addressed the issue of organized crime and drugs cartels.
"The groups of organized crime which act with a degree of violence that ignores borders are a major threat for our democracies and call for joint efforts. Faced with organized crime we, as states must be more organized and better coordinated"
Both leaders acknowledged advances achieved during the first meeting of the Mexico Uruguay Committee on cooperation against narcotics trade and chemical dependency which took place last October.
Previous to the meeting the Foreign Affairs ministers from both countries Luis Almagro and Patricia Espinosa signed a strategic cooperation agreement.
Having ended the two-day Mexico visit, President Mujica and his delegation will be stopping in the north east of Brazil for a UN sponsored celebration of the Afro descendents in the Americas.